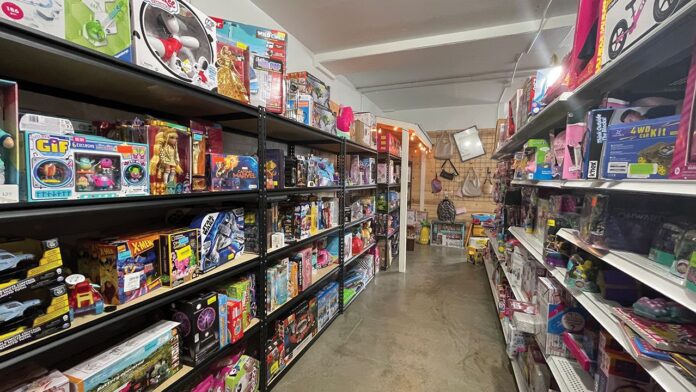 The Ornery Octopus Surplus and Liquidation store in Hiawatha isn't open Mondays, but that doesn't mean there isn't work to be done. Last Monday, the store's family owners were waiting on a truck.
"That load coming today is from Maryland," said Rob Schorg. "Most of the Target stuff I buy is coming from the East Coast. We've got some from Texas, and we get stuff from California. The shipping (cost) is getting so high, we try to get it as close as you can, but sometimes the better deals are way out there."
Liquidation outlets like Ornery Octopus and North Liberty-based BWP Sales trade in heavily discounted merchandise left behind by the big-name retailers who first ordered it.  The internet-fueled demise of brick-and-mortar chains such as Sears, Kmart, Younkers and Gordmans brought a surge of product to resellers – so much that they've opened their own stores to supplement their online trade.
"I was working full-time, I was going to school and just started kind of messing around with it," said Brad Peden, owner and CEO ("I don't really have a title") of BWP Sales.
Mr. Peden began trading on Amazon in 2009, when he was looking to resell some textbooks from his MBA studies.
"The books sold, and I started scrounging around the house for more things to sell and it kind of took off," Mr. Peden recalled last week. "One year around Christmas I made more part-time than I did doing my job."
So Mr. Peden went full-time trading online in early 2011, about a year before Rob Schorg, a master electrician with his own business, started dealing in industrial surplus on eBay.
"I had more fun doing this, so we decided to try it," Mr. Schorg said.
"We would go on vacation, and we'd look for these bargain stores and we'd love them," said Mr. Schorg's wife, Dawn Schorg. "It's always been a passion of ours. We've always tossed around the idea that we'd always love to have this, and the kids are both out of school now."
"The kids," Trevor and Brittany Schorg, helped their parents launch their first brick-and-mortar store in Marion in March 2020, days before COVID shutdowns spread across the country. The pandemic disrupted but hasn't derailed the business, which moved to a larger Hiawatha store and warehouse in February.
"It's definitely been up and down," Dawn Schorg said.
"It's a struggle," Rob Schorg said. "It seems we've had to fight since then to keep things going."
Still, Mr. Schorg added, "we weren't disappointed. We kept our heads above water."
"It was kind of wild, but we were able to keep everybody employed because our online sales went up so much," said Mr. Peden, who opened his first store in Wilton in 2018. "We shipped products directly from our store and we had a record year last year, due largely to online sales."
While the four Schorgs are Ornery Octopus' only employees, BWP has grown to about 40 employees at stores and warehouses in North Liberty, Wilton, and Charlotte in Clinton County. Warehouse space is important to resellers, who often store seasonal merchandise for sale the following year or pending sale to others in the trade.
"That's one of the reasons we bought Charlotte, because it has about 15,000 square feet," Mr. Peden said. "We actually sell pallets of merchandise to other retailers. We do what's called retail arbitrage:  We buy for a little less and sell for a little more."
"We've got tons of Christmas stuff back there," said Trevor Schorg. "We've got tons of Halloween stuff. We store our seasonal stuff. When Christmas is over, that's when we buy all ours, and we sit on it for almost a year."
"They clear it out, and that's when we get it," said Dawn Schorg.
Like Mr. Peden, Rob Schorg trades with other liquidators while he keeps his own inventory fresh.
"We try to have a gamut of pretty much everything, from health and beauty to sporting goods," he said. "If we start getting deficient in one area, I'll search that area for some more. You can't be exact, but usually there's a manifest that tells you what's in the (shipment)."
Online bargain hunters like Mr. Peden and the Schorgs have created something of an informal network of independent discounters.
"I like helping other resellers," Mr. Peden said. "They don't have much room. I started in my basement and moved to my garage. I understand the process of starting a business and trying to grow."
Liquidators' shelves feature overstocks and "shelf pulls," unsold items taken off sale to make room for new seasonal merchandise, new packaging, or for other reasons. Some also sell goods returned after purchase.
"We stay away from that as much as we can," said Dawn Schorg. "We try to get all that fresh."
The Schorgs search for deals on merchandise they can sell at a 50% discount from retail.
"That's our goal," said Dawn Schorg. "Sometimes it's much more than 50% off. We have clothes out there that came from Gordmans that are $80, $90 dresses, and we're selling them for $8."
Mr. Peden's buyers use software that looks up an item's retail price. BWP doesn't sell anything for more than retail, but a recent batch of 10 Sony PlayStation 5 gaming sets sold at Sony's suggested retail price.
"Those are still a hot ticket," he said.
Mr. Peden noted a shift in buyer priorities as the economy reopened.
"Last year, people were looking for things to keep them busy at home," he said. "This summer it's been people itching to get back outside – outdoor activities, pools. We do sell some higher-end goods online, and that's maybe been a little softer."
"We're always learning, too," said Dawn Schorg. "Just last week we bought from Home Depot, and we've never had Home Depot before. We're kind of trying to branch out and have more for the guys. One load had a bunch of fishing stuff, and the guys loved that. It's definitely a learning process."
One lesson: Bargain hunters are different from other shoppers.
"People go to Target and Walmart because they know they can get these products," Mr. Peden said. "They come here not knowing what they're going to see. It's the thrill of the hunt, in our shopping experience."
"Small business is always up and down anyway," said Dawn Schorg. "For some reason, one week we'll be swamped, and then we'll have a week when it's like, 'Oh my gosh, how are we going to keep the doors open?' It seems like the word is getting out a little more that we're here."
"We don't rely on drive-by traffic," said Rob Schorg. "We're a destination spot. We seem to do pretty well."
"It's part science, part art, and a lot of relationships," said Mr. Peden. "You make mistakes, and you learn from them."