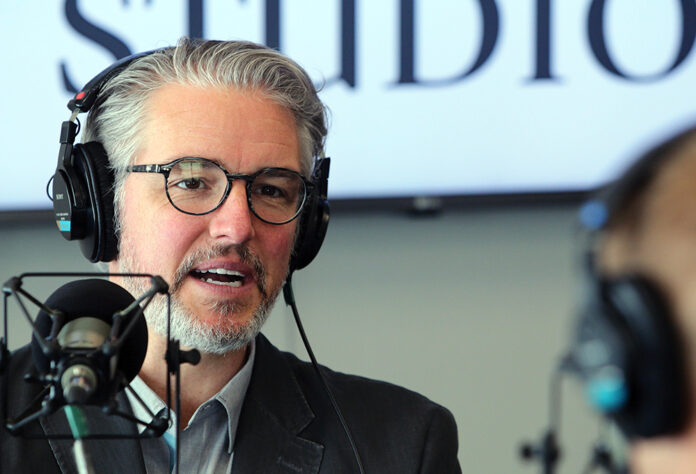 Sponsored by MidWestOne Bank, this is the latest edition of the CBJ's new podcast feature with Nate Kaeding and notable Iowa business and cultural leaders, available first to CBJ members. Listen to this episode below, and subscribe on Spotify, iTunes, Google Play, Stitcher and SoundCloud.
Mark Nolte
President, Manufacturing Division
Moxie
By Nate Kaeding
news@corridorbusiness.com
Mark Nolte, best known for his seven years leading the Iowa City Area Development Group (ICAD), is in the midst of a transitional period. After more than a decade of successfully driving local economic development, helping to keep companies like ACT in the region, and connecting startups and next-stage companies to capital, Mr. Nolte has joined North Liberty-based Moxie, where he is serving as president of the company's new manufacturing enterprise – a venture that will make Moxie one of just a handful of companies assembling solar panels in the U.S. And he is mulling a return to one of his first passions, politics, with a potential gubernatorial bid in 2022.
"[Moxie CEO Jason Hall] floated the idea one day at coffee, and I kept thinking about it, and it just seemed like the time was right," he said about his recent move.
Mark joined me in the CBJ's North Liberty studios to discuss how his early successes and failures drove his career, his long commitment to community service, and what's in store for the future.
Mark, I think a lot of us here in the Corridor know you for the amazing work you've done with the Iowa City Area Development Group, but what did your career look like prior to ICAD?
The reality was I didn't have a clue. I studied psychobiology with a minor in religion and philosophy. I kind of thought I'd go to grad school, maybe be a psychiatrist or a psychologist at some point. I didn't have the grades to go to grad school – no one really told me that at the time. I worked 40 hours a week or more through college. I started with facilities at Carver Hawkeye and then I got into the bar business. I bounced around a bit after college, not really knowing what I wanted to do. And in 2000, when [wife] Leslie started the dance studio [Nolte Academy in Coralville], it was a slog. We were two young kids who had a baby.
How far out of college were you at that point?
I was two years out. Leslie was two years out and we went bank to bank trying to find a loan. We needed $35,000 to start the dance studio. Finally, one banker was like, "Here's the deal. We don't loan money to people who don't have money. You kids don't have any money." So, we figured it out. We got family members to put CDs in the bank and that's how we got a $35,000 loan to start the dance studio.
I was booking cargo for C.H. Robinson at the time, and I was like, "There's got to be a better way. There's got to be someone that helps people like us start businesses." And I learned about the Institute for Social and Economic Development, which helps low-income people start businesses. They did a 16-week training program. I literally walked over there one day on my lunch break and I said, "I want to do this. I want to help you guys." And they were like, "Well, we're hiring."
I did that for a while, and this was back in the earmark days – Sen. Tom Harkin got an earmark to… Iowa had the Entrepreneurs with Disabilities program. It was a special program that helped people with disabilities start businesses, and we wanted to take that model nationwide. He got an earmark and I was hired to help lead an organization that worked all over the country to help set up programs like that. I did that for a few years and then kind of had that first inkling of a call to public service.
And so I left my job and ran for the statehouse and was concurrently working on Congressman Loebsack's campaign. But it was a rough year financially. I didn't have an income, and I was running for office. This is pre-Citizens United, and I was trying to explain to people that corporate money and special interest money was going to ruin democracy. I almost won the race and I didn't take any PAC money. I was outspent 5-to-1 and almost won, but I came up a little short.
You learn a lot about yourself out there, knocking on doors, talking to people, presenting yourself.
What was your next step after the run for office?
I interviewed with ICAD. Joe Raso was the president and he explained what economic development was. He said, "Your job is business development. You're going to go to all these trade shows and try to lure these companies back here with tax credits and stuff." And I remember blurting out in my interview, something like "That sounds really dumb" or "really inefficient." And Joe, to his credit, was like, "It is. The model is broken and I want to change it."
He called me on Christmas Eve 2006 and offered me the job. He set the stage of "Let's be the most innovative economic development… Let's do economic development that fits an innovative community with a university." And then when he moved on in 2012, I became interim president, and president after that.
Read the full interview with Mark Nolte in the Feb. 3 print or digital editions of the CBJ. Not a CBJ member? Join today.