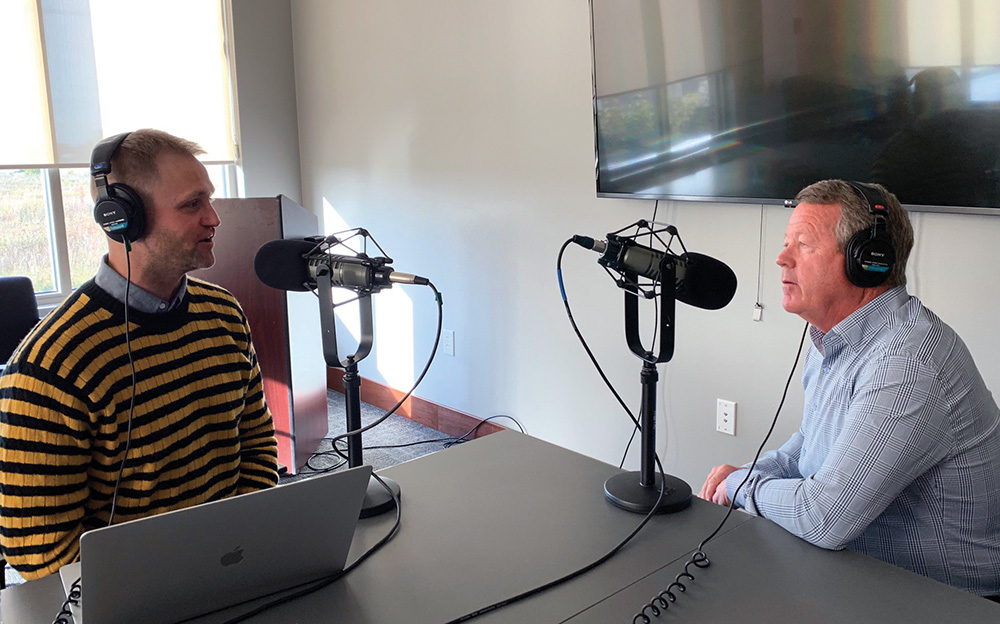 Gary Rozek talks with Nate Kaeding during a recent recording session at the CBJ Studios in North Liberty. PHOTO JOE COFFEY
Sponsored by MidWestOne Bank, this is the latest edition of the CBJ's new podcast feature with Nate Kaeding and notable Iowa business and cultural leaders, available first to CBJ members. Listen to this episode below, and subscribe on Spotify, iTunes, Google Play, Stitcher and SoundCloud.
By Nate Kaeding
news@corridorbusiness.com
Gary Rozek's roots in Cedar Rapids and the business world run deep. His grandfather immigrated from Czechoslova­kia in 1908 and started a business selling dry goods to gro­cery stores around Iowa. His father, Dick Rozek, came up in sales, and in the 1970s founded Centro Inc. in Oxford, a manufacturer specializing in rotational molding. It was there that Gary received a hands-on education in sales, op­erations and quality control, eventually stepping up to lead the company in the 1980s.
His family's lessons of sacrifice and work ethic have served Gary well, and helped Centro grow into one of the Corridor's largest privately held companies, serving man­ufacturers such as John Deere, Caterpillar and Yamaha. They have also driven him to give back to the communi­ty that raised him, whether through leading the National Czech & Slovak Museum & Library through the aftermath of the floods of 2008, or backing beloved restaurants from the Starlite Room to Popoli, which serves as an anchor for Cedar Rapids' now-redeveloping Kingston Village.
We sat down at the CBJ Studios in North Liberty to dis­cuss his family's start in manufacturing, his view of contin­ual improvement and how he manages his unique portfolio of business holdings.
Gary, you took over at Centro, which your fa­ther founded back in the 1970s, but you've also been involved with a lot of other busi­ness ventures in the Cedar Rapids area. Talk a bit about what this region means to you and why that's been such an important part of your story.
Yeah, Cedar Rapids is just such a great place to raise a family. A lot of my siblings are still there and other rel­atives. I've always lived in Cedar Rapids, but North Lib­erty's been great, too. Iowa City's always fun to visit. But Cedar Rapids, I was born and raised and still live there and love the town.
What neighborhood did you grow up in Cedar Rapids?
Southeast side, the Bever Park area.
Any fond memories or stories as a kid?
Oh, sure. You've got the big rock at Bever Park. You got to go sit on that, the reservoir up there, the swimming pool, and the zoo. That stuff was always fun. We could hear the lion from our house.
Were you entrepreneurial? Did you have the busi­ness itch as a kid growing up in Cedar Rapids?
Not really. My first job was carrying the newspaper for The Gazette. I was probably 13. Back then it was an af­ternoon paper except for Sunday. But my dad would help me on Sunday morning, then we'd go to church and then we'd go play golf.
Talk a bit about your parents and their jobs. Obvi­ously your dad had started Centro. What was their influence on you as a kid, and today as a business owner and leader?
Right. My dad had a material handling representative business. That was his real economic engine and how he started Centro. It was an outgrowth of a company he was representing that decided to replace him with a perma­nent salesperson – a direct salesperson rather than as his representative commission. And so he decided to start a company here. Amazing courage and strength.
What do you remember from those early days with your dad?
I worked with him down there as a teenager. I'd go down on weekends, summers, holidays and spring breaks and do whatever I could do to help out because he was really struggling because everything was new. The equipment was new, the materials were new – rotational molding was really young as an industry at that point.
Read the full interview with Gary Rozek in the Dec. 2 print or digital editions of the CBJ. Not a CBJ member? Join today.