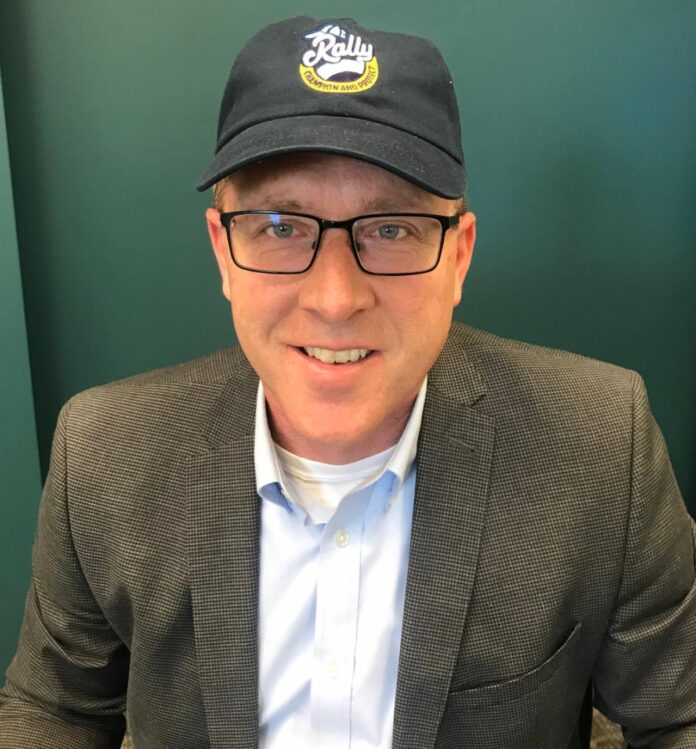 By Adam Moore
adam@corridorbusiness.com
The rally cap, a time-honored superstition for baseball fans hoping for a come-from-behind win, is coming to the business arena with the launch of a new initiative by the Cedar Rapids Metro Economic Alliance.
The new Rally C.A.P. (Champion and Protect) program, formally launched June 8, is meant to develop a "local-first mindset" and support small businesses and arts and cultural amenities in the region that have been hard hit by the pandemic and its attendant lockdowns.
Its overarching goal is to help the Cedar Rapids economy make its latest economic comeback.
"This community has been thrown a curveball or two," said Doug Neumann, executive director of the Economic Alliance, in a release announcing the program. "After the 2008 flooding, experts predicted mass closures of affected businesses. We beat the odds then and we intend to beat the odds again with pandemic economic recovery."
The consumer-facing portion of Rally C.A.P. centers around "rally cards," which are currently being distributed by 40 businesses and organizations listed at RallyCapChallenge.com, with more added daily as they sign up.
Customers will receive a rally card after making a purchase from a participating establishment or visiting a cultural institution, such as the National Czech & Slovak Museum & Library. Those with five rally cards can redeem them at designated pick-up points in exchange for an official Rally baseball cap, which organizers hope will become a common sight in the city in the months ahead. Other clothing items, along with prizes and giveaways, are also planned in the coming weeks.
Residents are encouraged to post pictures of their local-first purchases on their social media feeds, and ask their friends and family to join.
(Disclosure: The Corridor Business Journal is one of several media sponsors supporting this new program.)
For companies focused on serving business customers, the Economic Alliance is encouraging them to review their vendor list and work to keep their dollars as local as possible, according to Ron Corbett, business strategist with the Economic Alliance. A list of local businesses offering coronavirus-related products and services can now be found at cedarrapids.org/B2BRally.
"If we do this, and we're successful, we will recover, just like we did after the flood and just like we did in the 1980s, when we lost thousands of jobs in our community," Mr. Corbett said while speaking to Cedar Rapids' Downtown Rotary club on June 8.
Officials at the Economic Alliance have purposely designed the Rally C.A.P. Challenge as an open-ended initiative that could help spur an economic recovery far beyond the city's borders. Businesses in Marion and even Swisher have come aboard, and Mr. Neumann said that they would welcome member and non-member businesses from throughout the Corridor's seven-county region that are interested in participating.
"We're not putting any parameters on it," Mr. Neumann said in an interview with the CBJ. "If somebody in Marengo or Marshalltown thinks that rallying local businesses sounds like a good theme, I hope they pick up the phone. We're just lighting the match – the community is going to feed the fire, and we hope it grows and takes off."
If it gains traction with residents and businesses, it "could easily be a sustainable program, much like some of the post-flood spirit campaigns were," he added.
The Economic Alliance intends to measure the success of the campaign and its initial $65,000 investment through business activity in terms of rally cards distributed, and through attention attracted through traditional and social media channels. But much of its success will be determined by more intangible aspects, Mr. Neumann acknowledged.
"We are making an investment upfront in the creative, recruiting businesses and trying to do some of the early marketing," he said. "The measure of success will be if this looks like a $1-million campaign – if businesses pick up the logo and talk to their external partners, and people rally around the hashtag and the mantra."
It comes at a crucial time for many small businesses in the region, which are working to reopen and implement new safety protocols while also appealing to wary customers. A recent U.S. Chamber of Commerce and MetLife poll found more than half (55%) of small business owners surveyed believe it will take six months to a year before the business climate returns to normal, up from 50% in April; 6% say it will likely never return to normal again.
More than 340 businesses in Linn County have received grant funding worth $6.83 million from the state's Small Business Relief Program since its launch in April, while nearly 1 in 5 businesses in the state have secured Paycheck Protection Program (PPP) loans to try and bridge the financial gap. But that still leaves many on the edge and looking for help.
Christa Thompson, co-owner and president of Amish Connection in Marion, is one of those business owners. Her store, which sells hardwood furniture and relies on in-person traffic to sell its heirloom-quality pieces, was closed for two months amid the pandemic. Even after opening a month ago, foot traffic remains low, as many other businesses in the surrounding Collins Road Square shopping center remain closed.
Ms. Thompson signed up immediately, and says she hopes it will help lure community members back to her store, and start the process of rebuilding the local economy.
"It was a no-brainer for me, any exposure is appreciated," she said. "It's hard to see local businesses closing, and feel that unsteadiness yourself, so I really appreciate the focus and resources that the Economic Alliance is giving to small businesses."   CBJ