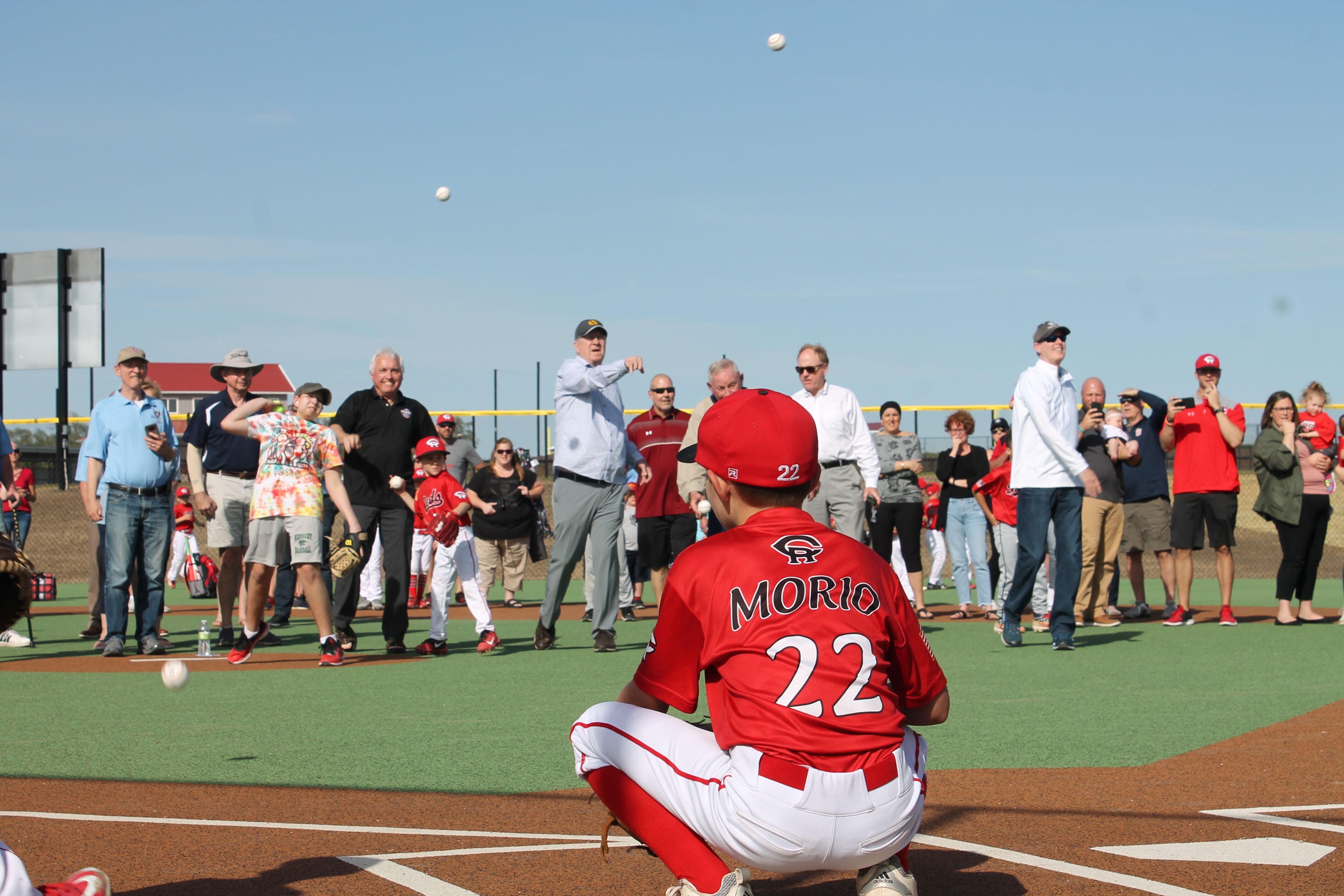 Supporters throw out the first pitch during opening ceremonies for the $13 million Phase One of the Prospect Meadows baseball and softball complex. PHOTO DAVE DEWITTE
By Dave DeWitte
dave@corridorbusiness.com
The bats are swinging and the pitches are flying – at least between rain storms – at the new Prospect Meadows softball and baseball complex northeast of Marion.
After opening its first phase on May 23, organizers expect the complex, with eight regulation fields and one Miracle Field for special needs players, to hit full stride next year. Weekday league play has already begun, but next year more than 1,000 teams are expected to attend tournaments and events hosted at the complex by Cedar Rapids-based scouting service Perfect Game USA.
It hasn't exactly been easy. As recently as late 2014, organizers had hoped to open the first ballfields in 2016.
"There's been a lot of negativity surrounding this project for nearly 10 years," said Perfect Game USA President Jerry Ford, in remarks at the opening pitch ceremony. "Everywhere I would go, baseball people would say, 'this is never going to happen. It doesn't have a snowball's chance in hell.'"
Mr. Ford shared his frequent response: "It is going to happen unless Jack Roeder dies first."
Mr. Roeder, the retired general manager of the Cedar Rapids Kernels baseball club, was brought in to lead the project in 2011, and has persevered through a long list of fundraising and development challenges.
The most recent challenges have centered around the weather. Tim Strellner, chair of the Prospect Meadows fundraising committee, said nearly 100 construction days had been lost to bad weather since last fall. While the Perfect Game field complex at Prospect Meadows is complete with four fields and a concession/scouting building, the Transamerica complex, with another four fields and concession building, was expected to take another week or two.
"This facility is not done," Mr. Strellner said. "The details are not complete to have the first-class facility we intend to have and make it the best facility in the Midwest."
One of the proudest speakers at the opening ceremony was Byron Tabor of the Marion Metro Kiwanis, one of several civic organizations that contributed to the project. Mr. Tabor was enthusiastic because the Kiwanis Miracle Field his club funded will provide playing opportunities for "smiling kids who've been told all your life, 'you can't do this.'" He said the group is already thinking about funding an inclusive playground at the sports complex.
The Cedar Rapids Metro Rotary Clubs also raised $185,000 for the project, through the construction of an attractive recognition wall to honor donors who contributed at least $500.
Prospect Meadows was undoubtedly one of the largest public/private fundraising collaborations the Corridor has seen. The Hall-Perrine Foundation made a pivotal $1.5 million challenge grant and advised Prospect Meadows on raising funds.
Mr. Strellner said 100 business partners made financial or in-kind contributions, and donations were made by 250 families and businesses. Linn County provided the land, a former county farm, for $1 per year and sold $1.5 million in bonds to help fund it. State Sen. Liz Mathis was credited with orchestrating strong state support for the project, including a law that will rebate up to $2.5 million in state sales tax generated from the facility over a 10-year period.
There are so many donors and supporters that Mr. Strellner said the signs recognizing them couldn't be completed in time for the opening. A ceremony will be held later this summer to unveil them.
Lifetime naming rights for the first eight fields have already been sold, raising $100,000, and Mr. Strellner said more lifetime naming rights are being offered.
Mr. Roeder leads a staff of six, including Assistant General Manager Steve James, Program and Community Services Coordinator Tim Brecht, Grounds and Sports Turf Manager Blake Nelson, Fundraising and Advertising Consultant Dave Storey and Administrative Assistant Marcia Moran. It contracts with the Kernels for a variety of services, and tournaments will be staffed by Perfect Game USA personnel.
Miron Construction was general contract for the project, which was engineered by Hall & Hall Engineering.   CBJ