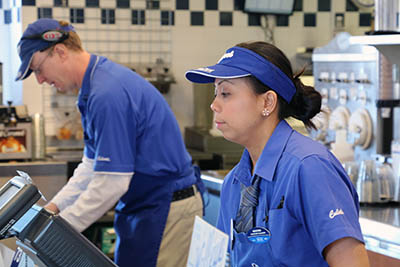 By Dave DeWitte and Chase Castle
news@corridorbusiness.com
Hiring, retention and staffing levels are becoming more of a challenge for small businesses as a strengthening economy and strong pace of openings, especially in the hospitality segment, have tightened the talent pool.
Unemployment rates in the Corridor are among the lowest in the nation. At 2.7 percent in December, the unemployment rate of the Iowa City MSA is sixth lowest in the United States. The Cedar Rapids MSA's unemployment rate of 4.2 percent in December was up from 3.9 percent a year earlier, but is still 81st lowest in the country.
When the CBJ contacted Jake Kendall, a partner in his family's five Culver's Frozen Custard restaurants, he'd just been discussing how to enhance staffing – traditionally one of the business' strengths – because it is becoming more difficult.
"It used to be 'find them and hire them,'" Mr. Kendall said. "Now you have to go recruit them. It's sharpened us."
Mr. Kendall said Culver's would like to add an average of five new team members at each of its locations in Hiawatha, Cedar Rapids, Marion, Waterloo and Cedar Falls with warm weather approaching.
The competition for workers has stiffened, however. In Cedar Rapids, for instance, a new Popeye's Louisiana Kitchen opened last month and a new Freddy's Frozen Custard and Steakburgers is on its way this spring. Those follow a wave of restaurant openings in 2014 that included Hurricane Grill & Wings, Cheddar's and Chipotle at Lindale Mall.
Culver's has long prided itself on offering a more positive work environment than its rivals, Mr. Kendall said, but applicants don't know what the environment is until they've been hired. That makes starting wage important, so Culver's tries to stay ahead of the minimum wage. The company also offers its full-time employees a 401(k) and a profit-sharing plan.
"We want to continue to be the employer of choice," he said.
Newer approaches Culver's is taking include exposing more high school students to its job opportunities by participating in the National Restaurant Association's ProStart program at Washington High School in Cedar Rapids. The program provides training and exposure to careers in restaurant management, with the potential for college credit, and includes both mentored apprenticeships at establishments like Culver's and classroom instruction.
Another strategy Culver's is launching is a mentorship program, in which its more experienced employees will be paired with newer employees.
"A high school student on their first job, they probably don't know what it's appropriate to ask the manager about," Mr. Kendall said. "It also gives our people who've been working with us a while an opportunity to be a mentor. Customer service does not always come naturally, so there's a challenge there."
Restaurateur Thomas Connolly has faced the same challenge in finding superior staff for the Bluebird Diner in Iowa City and the Bluebird Café in North Liberty. Hiring cooks has been particularly difficult, Mr. Connolly said, since those positions require more training and likely involve harder work than comparable jobs with modest compensation.
"For us, the training required for kitchen work [requires] a significantly larger skillset," Mr. Connolly said. "The learning curve is certainly longer."
The Bluebird Diner in Iowa City employs about 28 people, which effectively equates a full staff, he said. To date, there are 25 employees at Bluebird Café, which has employed up to 30 people.
The businesses continue to advertise job openings online, in print publications and at the University of Iowa. Both establishments also keep help wanted signs in the window.
'Whatever resources we have available, we try to use because it is an issue that we continually address," Mr. Connolly said.
Eric Kniel, assistant manager at Family Video in North Liberty, said his franchise is constantly seeking new hires as well, particularly during the busy winter months. The store usually receives multiple applications each week, and has employed at its peak close to 10 people. It currently employs seven.
Yet even when fully staffed, applications are accepted not only for future vacancies, but also for its neighbor, Marco's Pizza, which the Family Video corporation partnered with in 2012.
"We're never going to turn away a good applicant just because we have what some would consider a full staff," Mr. Kniel said. "That's why we almost always have a hiring sign out there."
The alcohol angle
The bump in business that followed the rebranding of the 101 Gastropub to the First Avenue Draugh House at Town and Country Shopping Center in Cedar Rapids called for more staffing, but owner Mike Hinton said the hunt for people with the right skills and attitude has been tough. The Internet job boards are inundated with service jobs, he said.
"The service industry is starving here," Mr. Hinton said. "There's just so many new restaurants opening, especially over at Lindale."
Establishments like First Avenue Draught House, which serve alcohol, may have a harder time than those who don't, and can therefore use more high school-aged employees. For example, the Pizza Ranch in Marion, which has no liquor license, hires many high schoolers. Staffing isn't a problem, according to management officials there, and many older workers also apply.
Tory Thompson, manager of Jersey's Downtown in Cedar Rapids, said the need for workers has been somewhat tempered by the onslaught of new liquor establishments in Cedar Rapids, which compete for business as well as workers.
The main staffing challenge for Jersey's, an upscale sports pub, has been the seasonality of business, which picks up in the spring and fall. Mr. Thompson has addressed the challenge by looking ahead about two months and hiring workers so that they can be trained when the busy season arrives.
The Rock Bar American Grill in downtown Cedar Rapids, open seven days a week, hasn't had any major staffing challenges, said Diana Hansel, who helps her son run the business, although employee turnover is a fact of life.
Ms. Hansel said Rock Bar uses flexible scheduling to attract and retain good talent – a surprisingly important factor because so many food service workers have multiple jobs.
Hiring similarly hasn't been a major obstacle for Popeye's Louisiana Kitchen in Cedar Rapids, largely because of its visibility on busy Blairs Ferry Road NE and the buzz the chain generated upon its arrival earlier this year.
"Obviously, it's easy when you're brand new," said General Manager Joe Vincent. "Everybody knows it – everybody sees you."
Mr. Vincent said the company did its applicant intake through Iowa Workforce Development. He was impressed by both the quality and quantity of applicants, and said some were "aggressively seeking employment."
Less than two months in, the company has continued hiring to replace hires who left or didn't work out. Mr. Vincent said he's hopeful the company's stream of good applicants will continue.