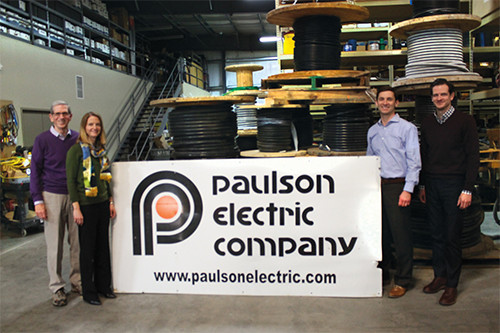 Ron Olson, former president of Paulson Electric (left) stands with his daughter Mindy Olson, vice president; son-in-law Ethan Domke, president; and son Tyler Olson, CEO, on a recent afternoon at the Paulson Electric warehouse.
By Dave DeWitte
dave@corridorbusiness.com
CEDAR RAPIDS—Ron Olson retired as president of Paulson Electric on Dec. 31 after 43 years in the family business, with a claim few family owners can make.
Paulson Electric, which opened in 1928, has transitioned to its fourth generation of family leadership. Tyler Olson, his son, is now CEO; Ethan Domke, his son-in-law, is president, and Mindy Olson, his daughter, is vice president.
Only about 3 percent of family businesses in the United States make it into fourth-generation hands, according to the Family Business Alliance. In fact, only about 12 percent make it to the third generation that Mr. Olson represented.
For other family business owners who want to keep the string of intergenerational ownership going, what worked for Paulsen Electric might come as a surprise.
Mr. Olson said he dispensed with worrying about whether his children would take over Paulson Electric as he led the company through acquisitions, relocation and the formation of two subsidiary companies with a total of 150 employees. He preferred to support them in the pursuits they had chosen for themselves.
"I did not encourage the fourth generation to get involved in the company," said Mr. Olson, 68. Each of the children had their own ideas about where they wanted their careers to go, and he considered it more important for them to have that chance than to steer them toward Paulson Electric.
Mindy, 37, headed off to college on the East Coast. Tyler, 39, headed to college on the West Coast. Both went on to law school and became attorneys. Tyler moved back to Cedar Rapids and practiced at the Bradley and Riley Law Firm, winning election to several terms as an Iowa state representative. Mindy moved to Kansas and married Mr. Domke, another attorney.
Ten years ago, Tyler asked if there might be a place for him in the business, and Mr. Olson happily accepted. Mindy and Ethan, who'd been living in Wichita, called to ask about a role five or six years ago, and he was similarly glad to have them onboard.
One of the best things about the way it worked out is that the fourth generation's decisions gave each enough time to gain an understanding of the company and experience in crucial roles, Mr. Olson said, considering himself "very lucky in that respect." Tyler leads sales, marketing and the company's new SiteGen Solar subsidiary, while Mindy oversees contracts, administration, human resources and accounting. Ethan takes the lead in operations, estimating and safety.
"What's been great is that because they all had prior corporate work experience, they were very confident in their abilities," Mr. Olson said.
In fact, all four generations of the family who have run the business have had different backgrounds and motivations. Conrad Paulson, his wife's grandfather, founded the business in Cedar Rapids in 1928. Leo Plotz, his father-in-law, had to step into Mr. Paulson's shoes after his death, but demonstrated great business acumen.
Mr. Olson earned a journalism degree from the University of Iowa, and married Mr. Plotz's daughter, Susan. He initially planned to go into the news business after graduation, but his plans changed after being drafted into the Army. Because of his educational background, he was assigned to a Psychological Operations unit attached to the Army's elite Green Berets, and stationed in North Carolina. When his term was up, he was glad to return to Iowa to give the family business a try.
As the Olsons can attest, leading a family business takes a different approach than working for someone else. The success of the business takes on higher stakes, affecting the livelihood not only of its leader, but those closest to him or her. A big difference Mr. Olson has observed at Paulson Electric is a kind of informed conservatism in decision-making.
"We take a risk every time we bid a job," Mr. Olson said. "You're married to that bid, and while 97 percent of the time they turn out well, some do not."
"We're not risk averse," he continued, "but we're conservative in that we look at all everything carefully before bidding a job. We have smart people putting bids together, and we trust them."
Mr. Paulson cites Paulson Electric's ventures into communications connectivity, with its PEC Communications subsidiary, and its move into solar power, with SiteGen Solar, as examples of the company's willingness to innovate. The company has installed a rooftop solar array that meets about one-third of the electrical supply needs of its Cedar Rapids headquarters.
Some of Paulson Electric's more visible projects have included the Doubletree by Hilton Cedar Rapids Convention Complex, the new Coralville Intermodal Facility, the Cedar Rapids Metro Economic Alliance building and the Roshek Building in Dubuque.
One of the keys to Paulson Electric's success has been building and maintaining a strong team, and building relationships within the industry.
"I feel we treat people fairly, whether it's compensation or the activities we do together," Mr. Olson said. "We're fairly hands-off. People here have a pretty free rein to make themselves successful."
While Mr. Olson has retired, he plans to remain active in the community and maintain an office at Paulson Electric. He said his strongest passions today lie in primary and secondary education.
"I'm going to do my best to be a voice in getting adequate K-12 education," Mr. Olson said. "It's been underfunded, and I think it's going to come back to haunt us."