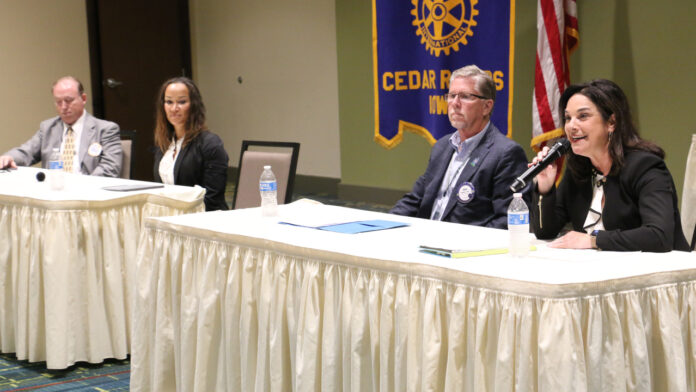 UPDATE: Amara Andrews now leads incumbent Brad Hart by 40 votes for second place in the Cedar Rapids mayoral race, after provisional ballots were reviewed and tallied Nov. 4 by the Linn County Auditor's Office, and Mr. Hart said Friday he won't request a recount in the race.
According to the new vote totals, Ms. Andrews received 7,359 votes (28.1%) in the Nov. 2 election, while Mr. Hart received 7,319 votes (28%), leaving Ms. Andrews with a 40-vote margin for second place – an increase of 16 from the 24-vote margin reported on election night.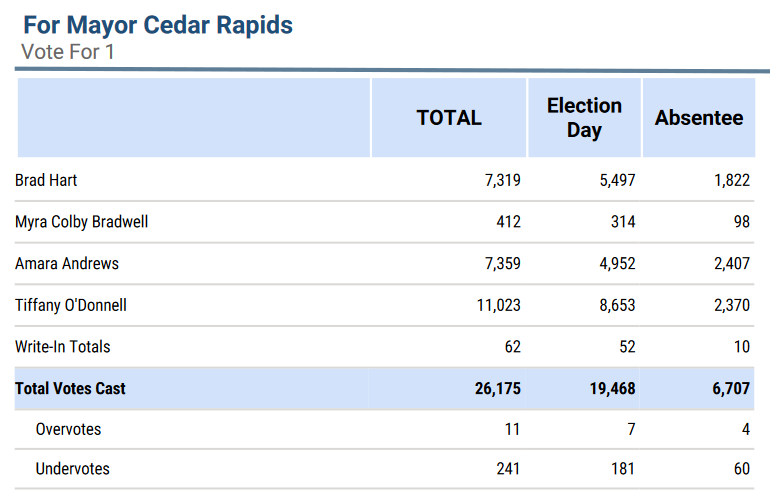 As currently tallied, Ms. Andrews will be the candidate to face leading vote-getter Tiffany O'Donnell in a Nov. 30 runoff to determine the election winner. The recount showed Ms. O'Donnell received 11,023 votes (42.1%) in the Nov. 2 vote.
A runoff election will be held Nov. 30 because no candidate received 50 percent of the total votes cast.
Mr. Hart issued the following statement Friday:
"While the number of votes between Amara Andrews and me represents less than two tenths of one percent, I have decided not to ask for a recount, in part to avoid the cost and the efforts of those who would need to be involved. Thank you to my family, friends, volunteers and Cedar Rapids voters for your support in my re-election bid. We fell short of our goal and are, of course, disappointed. However, I am proud of the successes of the last four years and where the city stands today. 
"Despite a pandemic and a natural disaster, 67% of Cedar Rapidians believe the city is on the right track, and that's because we have come far in recovering from the derecho, improved our streets and added flood protection, housing and jobs. I will finish out my term by serving this great city just like I've tried to do every day for the last four years. Thank you to my fellow city council members and to the talented city team I've had the privilege to work with. Thank you to the citizens of Cedar Rapids for the opportunity to serve you over the last four years. It has been an honor."
The election results are slated to be canvassed Nov. 9 by the Linn County Board of Supervisors.
———————–
The Cedar Rapids mayoral race is heading for a Nov. 30 runoff between top vote-getters Tiffany O'Donnell and Amara Andrews, after neither received the minimum 50% of votes required for victory in the Nov. 2 general election.
Ms. O'Donnell, the CEO of Women Lead Change and a longtime television personality in the local market, received 10,991 votes (42.1%) of the 26,104 total votes cast, according to unofficial totals from the Linn County Auditor's Office. Ms. Andrews, an executive with TrueNorth in Cedar Rapids, finished second with 7,332 votes (28.1%), and current mayor Brad Hart was third with 7,308 votes (28%), just 24 votes behind Ms. Andrews.
Mr. Hart has served as the city's mayor since January 2018.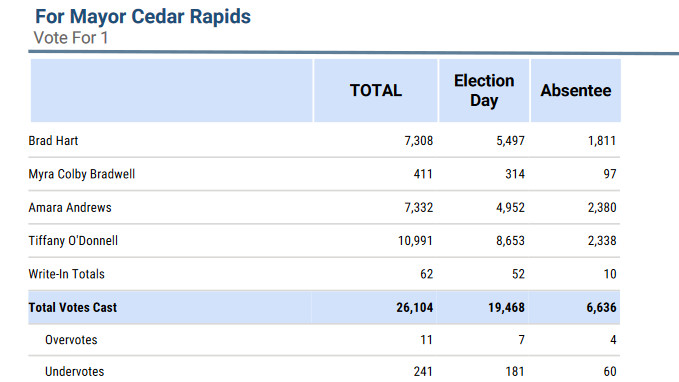 As currently tallied, the results would mean that either Ms. O'Donnell or Ms. Andrews would succeed Mr. Hart as mayor, though the vote total isn't official until a final canvass is completed.
The fourth candidate in the race, Quaker Oats employee Myra Colby Bradwell, formerly known as Gregory Hughes, received 411 votes (2%).
The four candidates made their cases in a somewhat divisive campaign, including at a forum Oct. 11 hosted by the Cedar Rapids Rotary Club.