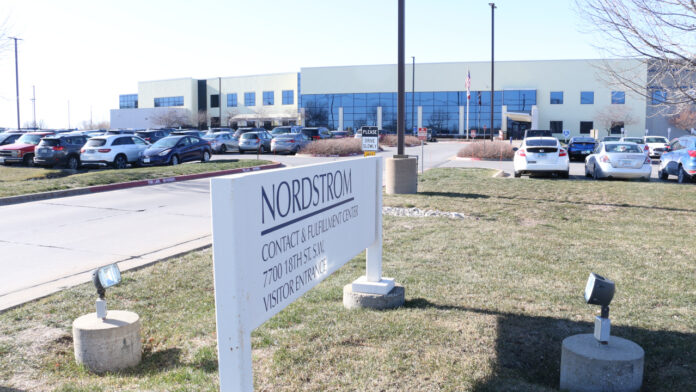 Nordstrom plans to lay off more than 200 workers at its warehouse and distribution center in southwest Cedar Rapids, according to an Iowa Worker Adjustment and Retraining Act (WARN) online notification.
According to the notice, posted Sept. 20, the company will complete a layoff of 222 workers by Oct. 18 at its facility at 7700 18th St. SW, which currently has more than 1,100 employees.
Reports indicate that Nordstrom, a luxury department store chain based in Seattle, is in the process of evolving its supply chain network to more closely align with the needs of the business and its customers, including a shift to a regional fulfillment model. As part of the move, product volume from the Cedar Rapids fulfillment center has shifted to other locations in Nordstrom's supply chain network.
"We have made the difficult decision to reduce our workforce at our Midwest fulfillment center in order to better align with the current needs of our business," a Nordstrom spokesperson said in a prepared statement. "We recognize the impact these changes have on our team members and are committed to taking care of our people as we work through this transition."
Company began Cedar Rapids operations in 1997
The company opened its Cedar Rapids fulfillment and distribution facility in 1997 and has expanded its operations twice since then, most recently adding 258,000 square feet to its existing 320,000-square-foot facility in a project completed in the spring of 2008.
In a Corridor Business Journal Economic Forecast panel discussion in February, Nordstrom general manager Reggie Ward described the company's outlook for 2022.
"Our business has changed a lot over time," Mr. Ward said. "It started as mail order fulfillment, but over the last few years, we've focused on e-commerce. Our building in Cedar Rapids is direct-to-customer. We were positioned well when we went through the pandemic and being able to get products to customers with a lot of store closures. We went through about six months where stores were closed across the country, so at our building, we shipped about 34 million units, which was about 40% of everything that Nordstrom did. We also do about 15 million units of returns. Our business does about 75% of all the returns for Nordstrom."