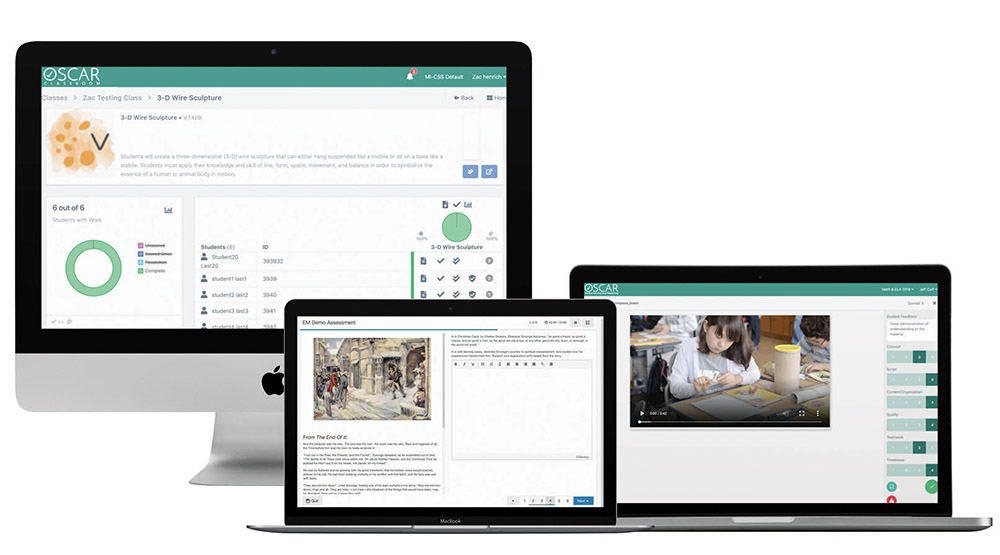 Screenshots of OSCAR, the flagship platform from MZ Development. CREDIT MZD
By Katharine Carlon
katharine@corridorbusiness.com
Scoring essays, portfolios, presentations and other open-ended measures of knowledge and ability has traditionally been a complex process involving many costly hours of human labor.
MZ Development hopes to change that.
The North Liberty-based edtech startup has developed a suite of software products aimed at delivering fast, accurate and efficient scoring capabilities at a fraction of the price, according to CEO Zac Henrich.
"A lot of people out there, which is crazy to me, are still doing paper-based assessments," Mr. Henrich said, citing the College Board's AP tests as one example. "If there's an essay or sort of non-bubble sheet, they rent out football-sized warehouses and fly out all these teachers … and they have these carts with stacks and stacks and stacks of paper, hand a stack to each teacher and the teacher thumbs through paper and scores these things. Whereas, if they had our technology, they'd eliminate about 90 percent of the cost."
MZ Development's flagship product, OSCAR (short for Online Scoring and Reporting), offers a distributed scoring platform that can accept not just scanned paper documents, but PDFs, images or media clips. It includes quality control features like scorer training and ongoing validation and calibration, as well as real-time reporting and the ability to put score configuration and administration in the hands of end-users such as school districts, state education departments and assessment companies.
The platform makes use of what the company calls "Symbiotic Scoring," a process of combining human scores, performance metrics and AI scores to generate confidence ratings for human scores, reducing the manpower necessary for projects that require multiple reads or views.
Mr. Henrich, who launched MZ Development in 2015 with Chief Technology Officer Miles Loring, said the idea was born when both men worked at Pearson, a major player in the Corridor's growing edtech scene.
"While we were there, there was continuous need for clients to have the ability to evaluate student performance work – not your standard multiple choice, machine-scorable stuff, but say you wanted to evaluate a student completing a weld, or a dance video," he said. "Pearson has a really nice solution, but it's part of a huge assessment ecosystem."
"It's like when you go to a car dealership. If you say, 'I want to buy a radio,' they're going to sell you a car. So we said, 'let's build a really nice radio.'"
MZ Development has doubled its client base each year, now counting the Northwest Evaluation Association (NWEA), the Georgia Center for Assessment, the Mississippi Department of Education, the New York City Department of Education and the Michigan Assessment Consortium, among its client roster. It selected former ACT Chairman and CEO Richard Ferguson to chair its board and help the company invest in a full-bore sales and marketing effort. And it has introduced two new products, OSCAR Classroom and ADAM.
OSCAR Classroom, first used in the state of Michigan to evaluate art projects, allows teachers to collaborate on scoring and feedback and integrates with Google Classroom. ADAM (Assessment Delivery and Management) offers a test delivery platform that can also be used in conjunction with OSCAR for scoring.
"When we first started, we would just consume student tests from other places, whether paper-pencil tests or somebody else's delivery platform," Mr. Henrich said of the new software, recently piloted by the Louisiana Department of Education. "Now students can sit down in front of our software and take the test. If it requires human evaluation, it will be routed into OSCAR for teachers to score it, and, if it's machine scored, we do all that within ADAM."
Mr. Henrich said he believes test delivery offers major growth potential for the company, particularly given the integration with OSCAR.
"And that's weird because there are a lot of [delivery] platforms that are available from various vendors out there, but combining it with the ability to score is unique," he said, adding that while test delivery programs are everywhere, the company has no direct U.S. competitors on the scoring end.
With a more robust marketing effort, Mr. Henrich said plans call for the company to be positioned as the market leaders in performance assessment, and to grow to between $5 million-$5.5 million in value by 2021. The company also plans to continue innovating to drive costs down and improve AI capabilities to the point it can generate actionable feedback.
"There have been some really cool conversations we've been involved in around using AI for more granular-level feedback," he said. "I think it's important to evolve on how we are using it to make humans better."   CBJ