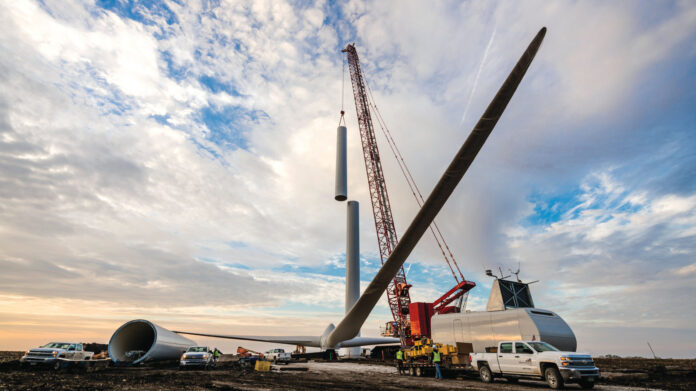 When Mortenson erected its first turbine 26 years ago in rural Iowa, wind energy hadn't quite hit the mainstream in the Midwest.
But once it started to expand across the country in the early 2000s, the Minneapolis-based company with a location in Iowa City moved to the forefront of the industry.
"We have been involved in the evolution of wind energy throughout the years with innovation and technology advances," said Tim Maag, vice president and general manager of Mortenson's Wind Energy Team. "Wind turbines started off at about a half a megawatt, and now we have some turbines that are approaching close to six megawatts of electrical energy."
Since 1995, Mortenson has been involved in projects producing 30,000 megawatts of wind energy nationwide, including 6,500 megawatts of Iowa's total operating capacity of 11,660 megawatts, Mr. Maag said.
According to U.S. Energy Information Administration data, Iowa leads the country in the proportion of energy coming from wind, surging to nearly 60% in 2020 from 44% in 2019, when wind energy surpassed coal as the state's top electricity generation source. Coal, which provided 71% of the state's energy needs in 2010, had dropped to 22% in 2020, the data revealed.
In wind turbine capacity nationwide, Iowa only trails Texas, where 30.2 megawatts were installed as of December 2020. Although Texas generates and consumes more total electricity than any other state, wind remains slightly less than 20% of the state's electricity generation mix.
The number of total turbines in Iowa is close to 5,900 after 540 new turbines were added last year, according to the American Clean Power Association.
Powerful partnership
Mortenson recently wrapped up work on the Diamond Trail Wind Project near Williamsburg in Iowa County. The 78-turbine wind farm was the final piece in Des Moines-based MidAmerican Energy's Wind XII initiative. The $922 million project, approved by the Iowa Utilities Board in 2018, made MidAmerican the first investor-owned electric utility in the country to generate renewable energy equal to 100% of its customers' usage on an annual basis.
Along with Diamond Trail, Mortenson was selected through a competitive request for proposal (RFP) process as the contractor to do the engineering, procurement and construction (EPC) work on three other projects in the Wind XII wind energy portfolio.
"We've had a long-standing relationship with them that goes back almost 20 years," Mr. Maag said of Mortenson's partnership with MidAmerican Energy.
The scope of Mortenson's work on the Diamond Trail project included public road improvements, access roads, foundations, collection system installation, wiring and erection of 19 Vestas V110 turbines, 25 GE 2.8 turbines and 34 Vestas V136 turbines, T-Line, substation, operations and maintenance building and met towers.
"We pride ourselves in performing as much of the work as we can with our own forces, oftentimes utilizing local craftspeople. But we will install our own civil roads, we form and place the foundations, we erect the turbines, and we have a power delivery group that does our collection and substations," Mr. Maag said. "We pretty much self-perform the majority of the work on a wind farm. We do that because we work in very remote areas and we can control the schedule better by self-performing that work ourselves versus subcontracted."
At the peak of an average wind farm project, around 150-200 people are employed, including laborers, carpenters, millwrights, iron workers, operators and electricians, Mr. Maag said. Then, after the wind farm is constructed, there are permanent jobs for the local area to maintain the turbines, he added.
According to the U.S. Bureau of Labor Statistics, wind turbine technician is the second fastest-growing job in the nation. Technicians earned an annual mean wage of $57,510 in Iowa in 2019, exceeding the median wage for all occupations in Iowa, which was $47,330, the agency reported.
Economic windfall
Wind energy not only has environmental benefits – it's renewable and free and doesn't deplete water resources or emit carbon – it also reaps economic benefits, Mr. Maag said.
"During the construction, there's an influx of activity, so the local restaurants, hotels, shops and so forth are very well supported," he said. "We also use local services, like the local co-ops and repair shops and buy fuel and water and consumables from the local community when we're building it. And then after the project has been built, wind projects bring substantial new revenue into the community that can be used to improve schools and keep local taxes low."
In 2020, the wind industry paid $69.5 million in state and local taxes and about $78.5 million in lease payments to farmers and landowners, the American Clean Power Association said.
That doesn't mean there isn't opposition to wind farms in rural areas. Neighbors' concerns include the turbines' massive size and noise, and the motion from the spinning blades potentially causing headaches and nausea.
Although more than 300 Iowa County residents signed agreements for the Diamond Trail project, many others voiced their concerns at a public meeting after the Iowa County Board of Supervisors entered into an agreement for the project in May 2019.
Here to stay
A record amount of wind generating capacity was installed nationwide in 2020, according to the Energy Information Administration, primarily driven by the expected loss of a production tax credit. However, in December, Congress extended the tax credit for wind development for another year.
The $2 trillion infrastructure plan President Joe Biden unveiled last month calls for allocating $100 billion over a decade to build a "carbon pollution-free power sector by 2035."
The proposal also calls for credits for clean energy development, storage and transmission lasting 10 years. The clean power goal in the plan would put the nation on "an irreversible path to a net-zero economy by 2050."
According to the "Iowa's Road to 100% Renewable" report by the Iowa Environmental Council, Iowa would need to at least triple its wind energy capacity — and increase solar energy generation six-fold — to be powered by 100% renewable energy by 2050.
Companies like Mortenson are more than ready for this rapid growth in the alternative energy industry.
"We've just come off of two back-to-back record years of wind energy for the company in 2019 and 2020," Mr. Maag said. "In 2021, it's going to be another great year. We're going to be working in 14 different states building wind pretty much coast to coast in the United States."