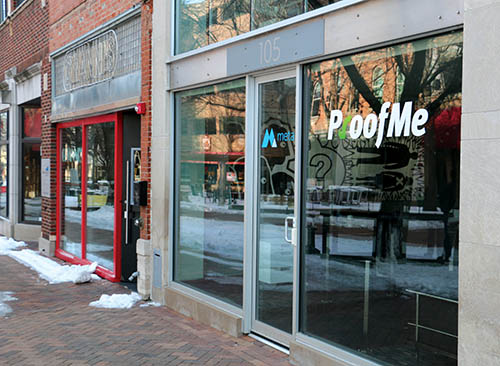 MetaCommunications' office at 105 E. College St. in Iowa City opened this summer, and recently adopted the company's logo for its newest software line.
By Chase Castle
chase@corridorbusiness.com
As MetaCommunications finalizes new software meant to help offices collaborate remotely, its leadership will be closely watching the company's own sprawling operations, with satellite offices scheduled to open this year everywhere from Austin, Texas to the Czech Republic.
Software developer MetaCommunications has a prominent presence in downtown Iowa City, where its international headquarters spans three floors of the glass-enclosed Park@201 tower. This summer, the company expanded its local footprint further by renting a satellite office one block away at 105 E. College St., which like its main office building, is owned by developer Marc Moen.
Late last year, Meta also completed an $8 million funding round led by Next Level Ventures, a Des Moines-based venture capital firm, with that funding earmarked for workforce recruitment, as well as sales and marketing efforts. An undisclosed portion of that funding was also provided by St. Martin Land Company, a Cedar Rapids-based investment firm.
After hiring more than 20 employees last year, Meta now plans to hire another 15 people for sales and customer service positions in Iowa City sometime in 2016. The company also plans to hire 10-12 people for its sales team in Austin, Texas, and brought aboard its first chief sales officer, Chris Turnley, who began work in the Austin territory two weeks ago.
In addition, Meta plans to open a satellite office in New York City, Founder and CEO Bob Long said, and will establish a presence in the New York, Chicago and Boston markets with the deployment of small, two-to-three person sales teams.
The New York office should be fully staffed before the end of February, while expansions into the remaining metro territories will likely wait until the end of the year, Mr. Long said.
In total, Meta has approximately 65 employees nationwide, in addition to about seven employees at an office in St. Petersburg, Russia that the company plans to relocate to the Czech Republic sometime this year. Although the company will likely retain an small workforce in St. Petersburg, Mr. Long said the decision to move was precipitated by "geopolitical issues" related to international sales.
Access to global markets is key for Meta, which had a "soft launch" for its new product, ProofMe, about 60 days ago. A beta version of that software is now being tested by clients in Europe, South Asia and throughout North America.
Mr. Long said ProofMe also marks the company's first venture into business-to-consumer (B2C) software. Unlike Workgroups DaVinci, the company's existing workflow software, ProofMe targets freelance professionals and smaller design groups, and includes different pricing packages depending on the features desired and the number of users.
The response so far has been strong enough, Mr. Long said, that he believes ProofMe could become Meta's marquee product, potentially surpassing Workgroups DaVinci, which is used by noteworthy clients such as Pfizer, Eddie Bauer, Bridgestone and others.
"We haven't done much to promote it, but it's picked up a huge amount of traction already with its first iteration," Mr. Long said, noting that promotions for ProofMe will likely begin later this month.
As the company invests in its international sales and marketing presence, Mr. Long said staffing for software developers at its main office in Iowa City will grow exponentially.
"Every person I hire [outside Iowa] is another five or 10 people in Iowa City," he said. "That's the exciting part about that, and we've laid out roots here and obviously have a pretty big commitment to downtown."
Founded in 1991, Meta began as a joint venture with Economy Advertising, a commercial printing company. In 1997, Meta amped up its investment in digital products by establishing its software engineering division. It was four years later, however, that the company's biggest shift to date occurred: Amid a desire to move way from commercial printing, Mr. Long executed an employee buyout of Meta from Economy Advertising and realigned the company's focus toward digital design and software engineering.
"And in the last couple of years, that's really paid off," Mr. Long said.
He said the company is likely to seek additional office space locally within the next two years. Although Meta has been in communication with Mr. Moen about occupying a portion of The Chauncey, a proposed 15-story, mixed-use tower to be built at the corner of Gilbert and College streets, multiple civil suits opposing the project have delayed construction indefinitely.
Uncertainty over the fate of the building, which was originally scheduled to break ground last month, factored into Meta's decision to rent the nearby satellite office. Mr. Long said that office is already close to capacity with nearly a dozen employees there, in addition to about 50 people at the Park@201 building.
"That's been an extremely frustrating situation, and to me it's unbelievable that [building] isn't up already," Mr. Long said. "There's real commercial need down here for office space."