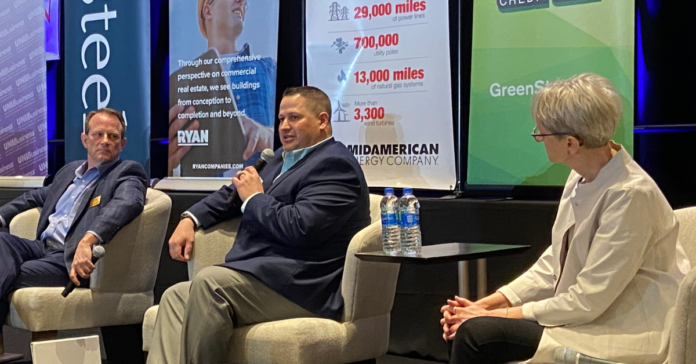 The 2022 CBJ Real Estate Symposium held March 24 brought industry leaders together to review how the Corridor has fared since the pandemic, as well as give a preview of what to expect moving forward.
In their speeches, executives from Ryan Companies, Allsteel and Skogman Realty warned supply chain troubles will not subside any time soon, gave advice on how to build the best workplace culture through social cohesion and highlighted the Corridor's ability to persevere — and thrive — after COVID-19 threatened the local economy.
Supply chain
Dan Baxter, director of development for Ryan Companies, knows firsthand how difficult working on big projects is in the current building climate.
"In general the construction costs are, compared to a couple years ago, up an average of 12-18%," he said. "We do have a couple projects in Cedar Rapids where as we went through the pricing exercises, those costs continue to drive higher. So a $40 million project became a $45 million project and we have to continue to drive that down."
These issues, namely rising costs and delayed shipments, have been problematic in every industry for months. In the real estate sector, decisionmakers notice the cost of steel, lumber, electrical components and more increasing as a result, said Mr. Baxter.
"There's not only volatility for cost but also volatility in lead times," he explained. "What we used to get in four to six weeks, we get in 18 weeks. What we used to be looking at for 16 weeks is now 40 weeks."
With labor shortages and high costs not expected to end soon — as well as the war in Ukraine and Russia causing new volatility in the aluminum products and neon gas markets — Mr. Baxter suggests paying close attention to national leading indicators and trailing indicators to keep your business as prepared as possible.
Workplace strategy
As businesses marched on after the pandemic, they are still figuring out to how maintain a strong workplace culture while achieving results in an era of hybrid and remote working, said Jan Johnson, vice president of workplace strategy for Allsteel.
She says social cohesion (or the combination of fairness, authenticity, interdependence and belonging) is the number one predictor of team productivity, which translates to financial success.
"Social cohesion is the holy grail," said Ms. Johnson. "When you ask me and my colleagues how to measure productivity, measure social cohesion."
This can be obtained, she believes, through flexibility not control.
"On average, workers report that they want the freedom to come and go," she said, referencing there's no one-size-fits-all approach for every business and employee. "This notion of giving employees a bit more control over how they work … I encourage you to think about not freaking out."
Infrastructure and developments
The uniqueness of the Corridor's potential comes from the population growth in cities like Solon, Tiffin, Marion, North Liberty, Coralville and Hiawatha, said Todd Bergen, vice president for commercial real estate at Skogman Realty.
"Demand is strong in the Corridor due to the number of new construction projects happening," he said. "If you read the CBJ every other week, you see a new project plan for one of these communities. It says a lot about the local investors and developers."
Among the projects he referenced is the $395 million UIHC hospital and a new micro-brewery, both to be developed in a re-imagined downtown North Liberty.
"If I look back over the past two years with a global pandemic, you mix in the derecho and then look at a second wave of the pandemic, it's really remarkable how the regional economy has been able to persevere, maintain and now expand into 2022," said Mr. Bergen. "I think we're looking for the same trajectory moving forward."