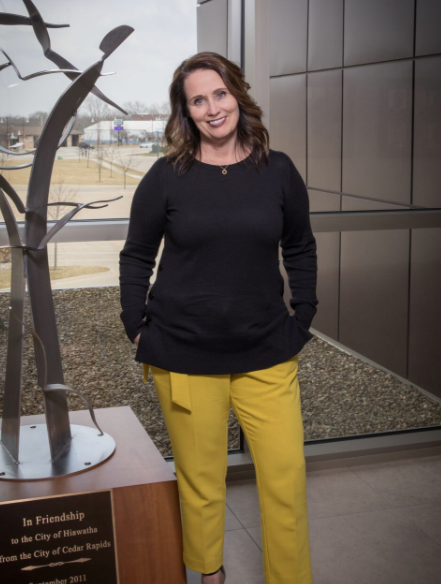 City Administrator
City of Hiawatha

After a late career start, Hiawatha City Administrator Kim Downs has proven to be just the kind of staff leader the fast-growing, business-oriented city of 7,200 needed.
From her emphasis on team-building to her positive and supportive leadership style, Ms. Downs has made a strong impression during her four years as city administrator.
"Leadership is an innate and natural skill for Kim," wrote Brent Cobb, president of Hiawatha-based World Class Industries. "As Kim transitioned from city clerk to city administrator, it was exciting to see how the team around her responded. She was able to gracefully navigate what can be a complicated transition from peer to manager."
Ms. Downs was already approaching 40 when she joined the city as deputy city clerk. She had been working part-time as city clerk in the Delaware County city of Ryan while raising four children, but as her husband's health suffered from an incurable disease, the couple decided she should pursue a full-time job with benefits.
Although she had an associate's degree in social work, Ms. Downs was encouraged by Hiawatha City Clerk Linda Bendixon to learn and advance her career. She went on to earn a bachelors degree from Mount Mercy University while serving in the city clerk's office and an MBA after being promoted from city clerk to city administrator in 2015. Until recently, she continued commuting about 40 minutes each way from Ryan so the children could stay in the same school.
"Often when I left for work I would say, 'OK God, I need you to take care of Kyle and the kids, because in this [city administrator's] world you really need to focus," she said. "Going home, I would say, 'I need you to look after Hiawatha tonight.'"
Nominators praised Ms. Downs for her work not only across departments on projects like the city's new Town Village Center mixed-use district, but across local governments on projects like the Tower Terrace Road interchange. She is also known for working closely with businesses in a city that has so many commercial establishments that far more people are in the city by day than at night.
Collaboration and team-building are at the heart of leadership for Ms. Downs, who says she shares all the city's accomplishments with her entire staff, the council and the citizens who volunteer and participate in city government.
When approaching a goal, "I pull in everyone that I feel will touch it in any way," Ms. Downs said. "I lay out that goal and say, 'how do we accomplish this?'"
She credits her upbringing for some of her insights in leadership, and says she's taken it as a compliment when she's heard others refer to her on staff as "mom." She was a role model for six younger siblings growing up and working on their family farm near Delhi. Later, raising four children who are now adults, she became aware of the natural differences in their learning and communication styles.
Among the traits that Ms. Downs has tried to cultivate as city administrator, the biggest are patience, relationship-building and trust.
"When I say I'm patient, what I hear back from people I'm not only patient, but I'm persistent," she said. "If it's truly in the best interest of the community, I'll keep after it."
Ms. Downs believes city administration is a good career option for women if they truly believe in serving others. She said it's not often clear to people that cities have limited control over the actions they can take and the resources they have, which are often changed by actions at the state level.
"In city government, it's not every day you get a pat on the back at all," she said. "You have to take the little thank-yous, that occasional smile."
Women should always be attentive to "those open doors" that offer a career path, and be willing to take a chance when those doors open, Ms. Downs said. She remains thankful for Ms. Bendixon, former Mayor Tom Theis and others who've taken a chance on her, and said she's trying to be just as supportive to others.
"I want for them to succeed, but they have to want it as much as I do," Ms. Downs said.
– Dave DeWitte