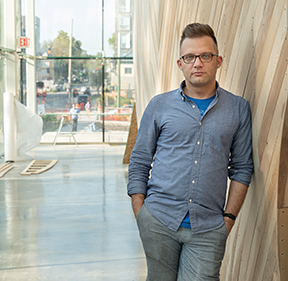 Former Executive Director  |  FilmScene
AGE: 38
Best advice you ever received?
"You cannot control your laughter. You cannot control your love. You know not to hit the brakes on ice but do anyway. You bend the nail
but keep hammering because hammering makes the world." – Dean Young, "How I Get My Ideas"
What do you consider your biggest break so far?
Jim McPherson not only letting me into his workshops but making me feel welcome and a part of this arts community. All leads back to Jim.
What would most people be surprised to learn about you?
Either that I played quarterback, took dance for several years growing up or was once a par golfer.
What's the biggest issue facing the Corridor, and why?
Climate change and renewable energy, for all the reasons.
If you had $1 million to give, what causes would you support?
Not just efforts to oust Steve King from his post, but the programs and initiatives it takes to end the thoughts and ways that lead to voters and citizens supporting and voting for him and others like him.
What are your passions outside of the workplace?
Independent literature, live music, film, my five nieces. Go Hawks! Skol Vikings.
What do you want to accomplish by the time you are 50?
To be surprised by the thing I write here when I become 50.