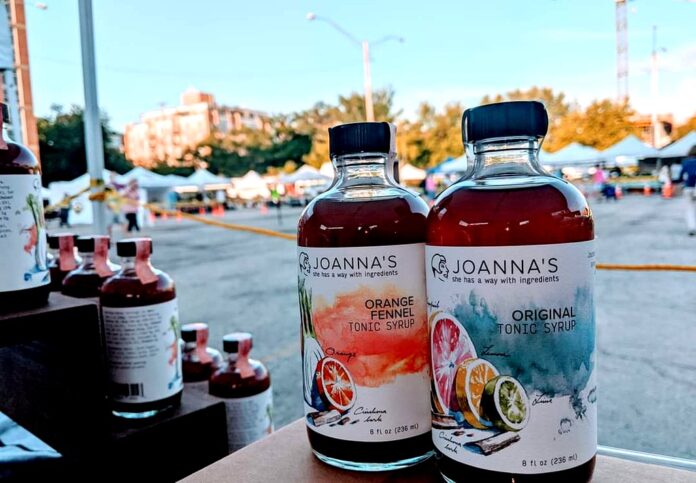 Joanna's Tonic Syrups, an Iowa City-based business ran by Joanna Mouming, is offering perks to investors through a crowdfunding campaign so they can expand production capabilities by moving to a co-packer.
An Iowa resident for three decades, Ms. Mouming is turning to the community to help grow her business that already has products in the Evanston, Des Moines, Omaha and Kansas City markets, as well as in popular Iowa establishments like Pullman Bar & Diner, Prairie Kitchen Store, Bread Garden Market and many more.
"What I realized is that my capacity for growth is limited if I'm making it in my commercial kitchen because my batches are quite small and it's pretty labor intensive," she said. " So what I'm realizing is, if I could scale up production, I could reach a much wider customer base."
Right now, one batch in her kitchen consists of 20 cases and each batch takes about seven hours, an inhibiting factor that is stunting the growth of a brand on the rise.
The co-packer she would like to start using offers a guaranteed two-year shelf life and their own microbial lab. Unfortunately, making the switch requires buying ingredients that cost a lot more, she said. To get to that level, more money is a necessity.
If she reaches her goal of raising $40,000, Ms. Mouming hopes to expand to larger packaging, too. Consumers constantly ask for larger sizes of her products, she explains, but customers can only buy eight ounce bottles. More funding means additional flavors and even premade cocktails could be introduced further down the road.
She is running the crowdfunding campaign through Mainvest, an investment marketplace for small businesses across the country that helps "Main Street not Wall Street," according to their website. Thanks to Regulation Crowdfunding in the JOBS Act, Title III, both accredited and non-accredited investors are able to invest in privately held companies.
The minimum investment a person can put towards Joanna's Tonic Syrups is $100. If you invest $100, the business agrees to share a portion of their revenue until you have been repaid $180. This money is owed, regardless of revenue, by 2025. If they invest over $500, they receive free samples. Not reaching Joanna's goal of $40,000 means the investors simply get their money back.
"There's not a huge risk or anything to an investor," said Ms. Mouming. "What people really end up being is instrumental in helping my business get to another level, while getting returns on their investment at the same time."
To date, she has received $13,200 in investments from 25 investors. There are 11 days remaining in this round of crowdfunding. Interested investors can read more and invest on the Mainvest website.