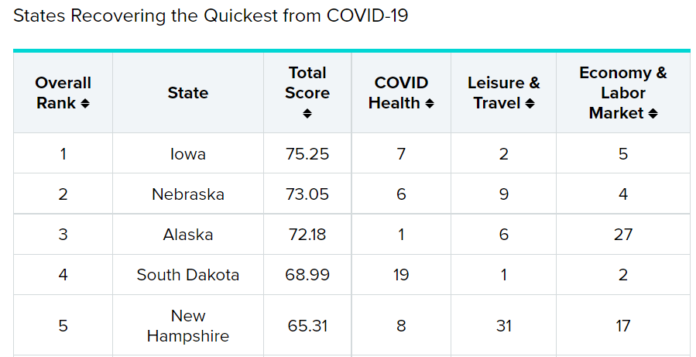 Iowa's COVID-19 recovery is the quickest in the nation, according to a WalletHub study released last week.
The Center Square reports Iowa ranked first in the nation, earning a total score of 75.25 out of possible 100. WalletHub compared all 50 states and the District of Columbia across three categories: 1) COVID Health; 2) Leisure and Travel; and 3) Economy & Labor Market.
The first category is comprised of data in such subcategories as number of vaccinated residents; share of vaccine supply used; positive testing rate; hospitalization rate, death rate; and share of hospitals with staff/equipment shortages. Iowa was ranked seventh in this category.
"Iowa is one of only eight states in which no hospitals reported having supply shortages in the past week, too, and it has one of the lowest shares of COVID-related doctor visits in the past week," WalletHub analyst Jill Gonzalez said.
Leisure and Travel includes measurements in the number of daily restaurant visits; seated diners at restaurants compared to pre-COVID levels; a retail and recreation mobility index; and restrictions of gatherings of 25 people or less. Iowa finished second in this category.
Economy & Labor Market includes pre- and post-COVID unemployment levels; real GDP; consumer spending; small business openings and work hours; and real estate listings. Iowa was ranked fifth in this category.
"Iowa ranks as having the quickest recovery from COVID-19 in part because it is one of only three states in the country that experienced an increase in small-business work hours compared to pre-pandemic levels," Ms. Gonzalez said.
"A state's climate can have a big impact on its recovery, too," Ms. Gonzalez continued. "States that are warmer, like Florida, allow people to be outside more easily, which gives extra protection to the elderly and other vulnerable demographics. This has led to an economic boom for warmer states, and as people consider where to relocate after the pandemic, climate and tax rates will be among the biggest factors in their decisions."