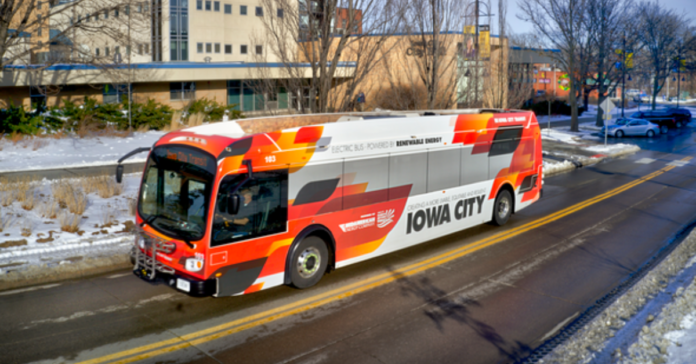 The U.S. Department of Transportation's (USDOT) Federal Transit Administration (FTA) recognized 10 transit agencies for helping combat climate change through its Sustainable Transit for a Healthy Planet initiative, including Iowa City Transit for their role in leveraging state, local and private partnerships. 
Iowa City Transit was announced as Most Collaborative after rolling out a fleet of four electric buses earlier this year. The transit department worked with MidAmerican Energy to ensure the vehicles use 84% wind power to run.
The Sustainable Transit for a Healthy Planet initiative encourages a clean energy future that both limits greenhouse gas emissions and creates jobs. Transit departments converted their fleets to electric vehicles, made facilities more energy efficient and utilized more renewable energy.
"By helping people efficiently and affordably get where they need to go, public transit plays a key role in reducing greenhouse gas emissions" said U.S. Transportation Secretary Pete Buttigieg in a statement. "We're delighted to honor these ten public transit agencies leading the charge to protect our communities against climate change."
Throughout the year, FTA helped participants advance their goals with technical resources, targeted listening sessions and peer exchanges. 
"Transit agencies across the country are greening their fleets, hardening critical infrastructure, and transitioning their workforces to reduce the disproportionate impacts of a warming climate on their communities," said FTA Administrator Nuria Fernandez. "We know that transportation is responsible for more greenhouse gasses than any other industry. Transit is one of the keys to changing that, addressing the climate crisis by taking cars off the road and electrifying vehicles nationwide."
The full list of awardees can be found here.