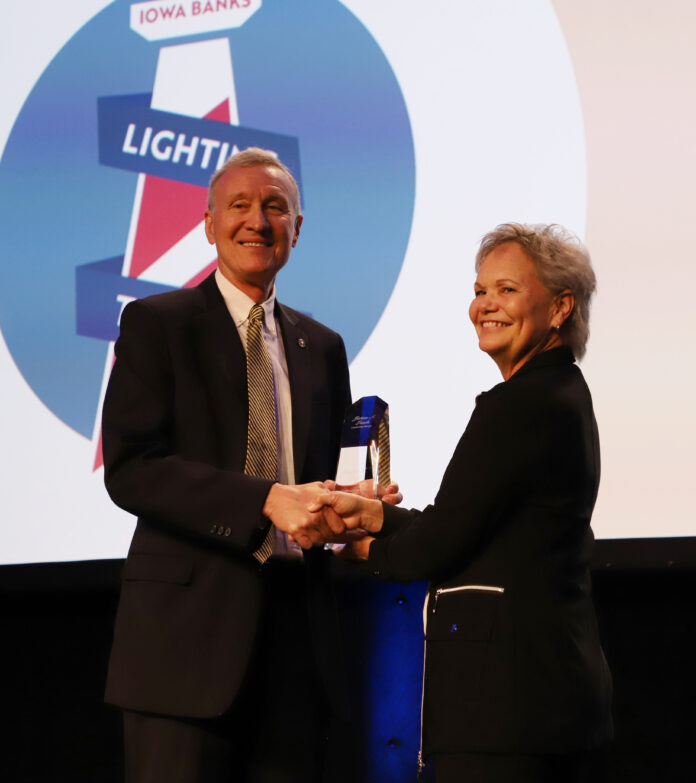 The Iowa Bankers Association presented Charlie Funk, president and CEO of MidWestOne Bank in Iowa City, with the 2021 James A. Leach Leadership Award last week during the IBA Annual Convention at Veterans Memorial Auditorium.
 The IBA created the award in Congressman Leach's name in 2000, following his term as chairman of the U.S. House Banking Committee. The annual James A. Leach Leadership Award recognizes a distinguished Iowa banker who, like Rep. Leach, has made significant, lifelong contributions to how Iowa banks serve Iowa communities.
"Charlie exhibits all the best qualities of a community banker. The impact he's had on our industry and within his community is immeasurable, and will extend generations due to the countless people he has taught and mentored over the years," said IBA President and CEO John Sorensen in a release.
Funk has more than 40 years of banking experience. Under his leadership, MidWestOneBank has grown from a $500 million bank in Iowa City to a more than $5 billion bank operating in five states. Prior to moving to Iowa City, he was president of Brenton Bank Des Moines and central region manager of Brenton Banks.
For years, Funk has given back to the industry by educating the next generation of bankers. Many young people have developed their skills through the classes Funk has taught at the American Bankers Association Stonier Graduate School of Banking, the Iowa School of Banking and the Colorado Graduate School of Banking. He has been a champion of leadership and mentoring programs at MidWestOne Bank, and many bankers' careers have been advanced due to his commitment to helping others develop and grow.
Funk is a graduate of William Jewell College in Liberty, Missouri, and a member of the school's athletic hall of fame. He was a 2014 recipient of the school's Citation of Achievement, the highest honor given to an alumnus. He is also a graduate of the ABA National and Graduate School of Investments and the ABA Stonier Graduate School of Banking.
Funk has served on the board of directors of the ABA and Folience. He served as chairman of the IBA in 2010-2011 and has served on numerous Iowa City community and school organization boards. Currently, Funk serves in leadership roles for the Iowa City Community School District Foundation and ICR Iowa.
"Charlie has worked tirelessly to positively impact his company, his community and community banking. He is a passionate advocate — helping people understand the importance of strong community banks and how they contribute to stronger communities," said Peg Scott, CEO and chief financial officer of Union State Bank in Greenfield, who served as chair of the Leach Leadership Award nomination committee. "He has earned the respect and admiration of his peers."