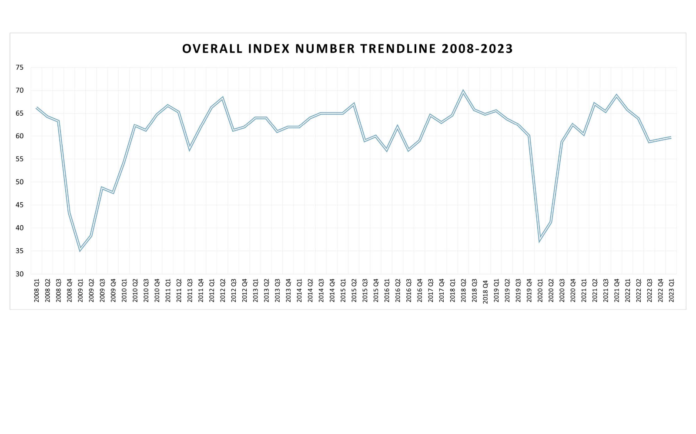 The Iowa Business Council (IBC) has released its first-quarter Economic Outlook Survey (EOS) for 2023.
The report measures member expectations for sales, capital spending and employment for the next six months. If the index measures above 50, sentiment is positive. The first-quarter survey's overall economic outlook index is 59.72, an increase of 0.46 index points from the 2022 fourth-quarter report.
Although the overall EOS index is flat, the results project continued confidence in Iowa's economy and across all aspects measured by the IBC including expectations for sales, capital spending and employment.
Sales expectations among IBC members decreased by 2.78 index points to a value of 65.28. Capital spending expectations increased by 2.77 index points to 56.94 and employment expectations increased by 1.38 index points to a value of 56.94.
The survey results also indicated:
83% of IBC executives listed workforce attraction and retention as a primary business challenge.
56% stated inflation as a primary business concern.
56% reported an unfavorable business climate as a top challenge.
94% report that it is somewhat to very difficult to hire employees while reporting more than 5,500 currently open/available positions in Iowa.
"The fact that IBC members continue to project confidence in Iowa's overall economy is significant," said Phil Jasper, president of Mission Systems for Collins Aerospace, and chair of the Iowa Business Council. "The business community continues to be optimistic about the future direction of our state and we will remain steadfast as an organization to bring forth policies and solutions that enhance Iowa's ability to expand business in Iowa."
The Economic Outlook Survey has been completed by IBC members on a quarterly basis since 2004. To review previous Economic Outlook Surveys, visit here.