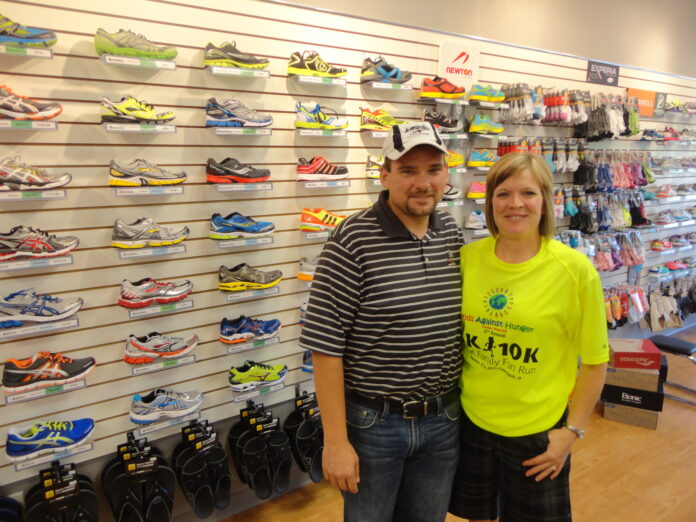 By Pat Shaver
NORTH LIBERTY — Brian and Kris Tharp's North Liberty business was a natural next step.
The couple established We Run, a specialty running shop that also hosts group runs and trains runners, in 2011. The store opened in March, 2012.
Mr. Tharp started running to lose weight and said he was constantly buying new shoes. He became an expert in running shoes, but more importantly he has dropped from 400 pounds down to about 200 through running.
"It was either get healthy or die," he said. "I started with nutrition and exercise."
He made the decision at 400 pounds that he needed to make a life change because he wasn't able to effectively do his job. He initially started working out doing other activities like bicycling, but he plateaued.
Brian and Kris' passion for running and the impacts it has had on their lives shows in their passion for the new business.
When Mr. Tharp began running, he started to realize how important it was to have gear that fit and was comfortable.
"I went on the Internet and bought shoes but they ended up giving me knee pains," he said. "So I went to a specialty running store, got fitted and got the right equipment."
"It went from painful to tolerable," he said.
Mr. Tharp committed to running and it become less of a chore and more of a lifestyle. They participate in races like 5Ks, 10K's and marathons almost every weekend.
"I really enjoy this. I love to help people to reach their fitness goals and this store can help with that," Mr. Tharp said.
The Tharp's spent about one year planning and working on the business before opening the store. They sought help fromKirkwoodCommunity Collegeand the Small Business Administration in their business planning.
They spent a good amount of time just trying to find a location. The storefront inNorth Libertyseemed to be the best fit, Mr. Tharp said.
"This community is very health conscious. There's a great trail system here. People support an active lifestyle here," Mr. Tharp said.
Thousands of cars drive by on Highway 965 everyday and they are located next to an established coffee shop, the Corridor Coffee Company, and are near the North Liberty Fareway.
We Run, 555 Highway 965 S. Ste. B inNorth Liberty, is very much a family-run business.
The business has eight employees, including Kris, Brian, his father Perry, and two of the Tharps' children.
Kris Tharp left her job at Rockwell Collins to start the business, and said it was a good decision. She was raised in Swisher.  Mr. Tharp, who grew up inMarion, has kept his day job and helps out with the business on nights and weekends. They live in Swisher.
The store will hold an official grand opening event on Sept. 1.
"We haven't done much advertising because our budget is pretty small," Kris Tharp said, adding that they have marketed to chiropractors and physical therapists in the area.
The store has a stock of 800-900 shoes and has about 100 different shoes on display, Ms. Tharp said.
"We have a little bit of everything. There's nothing in here that I wouldn't wear or recommend myself," she said.
The Tharp's aren't sure how the business will evolve, but say they have possible visions for the future.
"We have dreams, hopes and dreams of (opening) other stores that we would love to offer to other communities but we don't know where," Mr. Tharp said.
Right now, they are focused on their current store.
They would like to expand the products they have at the store, for example, he said. They would consider adding running products for children, and having a part of the business focused on walking.
Finding the shoe that feels best is achieved by trying on several options. Running shoe companies each have a unique fit and feel. Comparing shoes from different manufacturers will give you a great feel for the differences, and guides you in making an educated choice to fit your needs.
We Run carries a selection of technical running or walking apparel for every season. They carry products for running in the coldIowawinters, and also apparel for staying cool and dry in the summer or at the gym. Having the proper clothing can make a difference in the comfort and performance during a workout.
The store also offers items for people to hydrated and full of energy during their training runs or on event day. The store also sells running and workout accessories like running socks, water belts or safety gear.
We Run's group runs are Wednesdays at 6 p.m. and Sundays at 8 a.m. and they run or walk around the neighborhood and along the trails. They will also host a 5K Fun Run/Walk and a Kids Run on Sept. 1, the same day as their grand opening event. Proceeds will benefit Soles4Souls, an organization that collects shoes to give relief to the victims of abject suffering and collects used shoes to support micro-business efforts to eradicate poverty.
We Run is also a drop off location and will accept new and used shoes to donate to Soles4Souls.