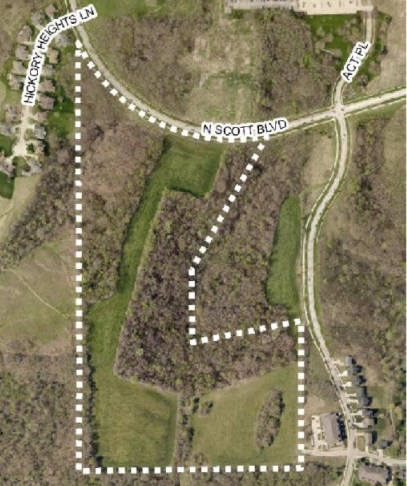 The planned senior living development near Hickory Hill Park was unanimously approved by the Iowa City Planning and Zoning Commission Thursday, Nov. 4.
In its fourth iteration, the proposal calls for the construction of a senior living facility and open space dedication for the expansion of Hickory Hill Park, located west of North First Avenue and south of North Scott Boulevard.
The facility would be built on 8.85 acres of the southeast corner of the plot, but the remaining nearly 40 acres of the rezoned plot is dedicated toward open space and the expansion of the park. The building itself would have 120 continuing care retirement community units and 134 beds.
Notably absent from this proposal is the removal of the controversial single family home component from previous plans, resulting in a scaled back proposal from Nelson Development and Axiom Consultants.
The proposal plans to include one guest suite bed, 73 one bedrooms and 14 two bedrooms in its facility. There will also be 32 memory care beds, while the overall building will total 69,589 square feet.
Friends of Hickory Hill Park, an all-volunteer nonprofit organization dedicated to preserving the park as a natural sanctuary, supports this plan.
"We commend Nelson Construction & Development for taking community and ecological input into consideration for this latest design," said Laura Goddard, treasurer for Friends of Hickory Hill Park. "We are glad this proposal will both provide needed assisted living facilities and maintain the integrity of an important and beloved natural space."
A Sensitive Areas Review was conducted to ensure Outlot A (which contains the majority of sensitive features) would be protected. It found that the two wetlands and two stream corridors would both have 100 foot buffers and that only 20% of slopes would be impacted by the senior living facility. Eighty percent of woodlands would be preserved, exceeding the 50% minimum requirement.
Ms. Goddard noted that the group's support is contingent on the land being deeded to the city and being incorporated into the park.
Board chair Michael Hensch said that despite his overall support for the plan, he was still concerned about a lack of housing diversity.
The development is expected to be constructed and fully occupied by 2025 if approved by the Iowa City Council, according to documents in the agenda. The proposal could reach the council during the Nov. 30 meeting.
The Iowa City Council rejected development efforts in July, citing concerns over cul-de-sacs, the climate impact to the park, the inclusion of a memory care facility and buffers separating the park from the development itself.