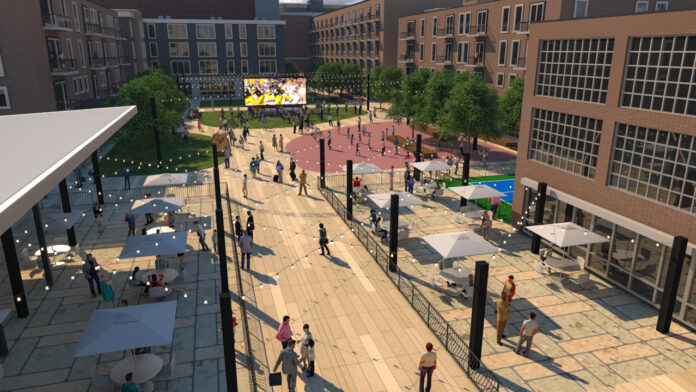 A groundbreaking ceremony is set for 4 p.m. Wednesday, May 11, for the $81.5 million First and First West development project just west of the Cedar River in downtown Cedar Rapids.
The ceremony marks the beginning of construction work on the project.
The Cedar Rapids City Council approved a development agreement for the project in April.
The first building in the project, the 43,530-square-foot "Pickle Palace," is set to house pickleball courts, a bar and grill, event space, rooftop courts and games, a roof deck and a third-floor bar.
That facility is part of the first phase of the long-anticipated project for the land along First Avenue West between First and Third streets. The property has sat vacant since being cleared of damaged structures following the 2008 flood, and had been proposed as the site of a Cedar Rapids casino before casino proposals were rejected by the state's Racing and Gaming Commission in 2014 and 2017.
Besides the Pickle Palace, the project's first phase is set to include an 8,000-square-foot Big Grove Brewery location; two four-story mixed-use buildings, with commercial entities on the main floor and residential units above; and a boutique-style hotel that will be required to meet or exceed the standards of the existing DoubleTree in downtown Cedar Rapids.
The second and third phases, set to begin in 2023 and 2025 respectively, are set to include other mixed-use buildings, a public plaza with a large-screen TV, a stage and public seating areas, a public art installation and various landscaping and underground stormwater detention features.
Other elements have also been discussed for the development, including a family fun center and a second hotel. An estimated 270 residential units are expected to be incorporated into the development. Overall, the mixed-use master plan includes 11 buildings, including hotels, residential units, office/service and retail spaces.
The entire development is targeted for completion by 2030.