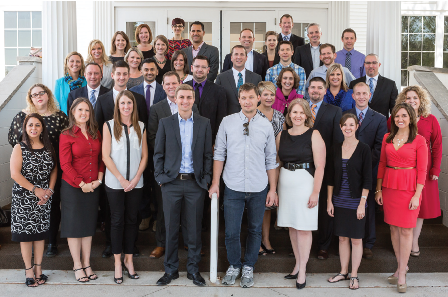 Story by Gigi Wood
Photo by Bill Adams
CORRIDOR–Another stellar class of Forty Under 40 class of honorees was recognized this year for their many accomplishments and service to their communities.
This is the ninth year the Corridor Business Journal has presented the award to 40 successful young people under the age of 40. They were recognized at an awards dinner Oct. 24 at the Riverside Casino & Golf Resort.
Check out more photos of our 2013 class on the events page.
The list of accomplishments and community volunteer work this year's class has amassed is truly impressive. Many of the honorees are busy with full-time careers, while making time not only for their families, but several nonprofit organizations, as well.
"I make the time. I have always wanted to be involved in the community. I'm on a bunch of different boards; I like the diversity," said 32-year-old Brooke Fitzgerald, owner of The Early Bird coffee shop in Cedar Rapids.
"I would say, initially, don't ever think you are owed something. It's important to put the time in and if you want something you have to go out and earn it," said Matthew Traetow, Sagacity Hotel Group's director of operations and 2013 Forty Under 40 honoree. "When you get to that point you have to learn how to balance your life, you work life and personal life."
Additionally, many of the honorees have started their own growing businesses, which are contributing to the local economy by adding jobs and promotion opportunities.
"Nine years later, it feels like we completely belong and it feels like they've seen our staying power and how much we've reinvested into the community, personally and monetarily," said Tsalika Drown, front of house manager and co-owner at Café Dodici in Washington and 2013 Forty Under 40 honoree.
The youngest honoree is 26-year-old Roby Miller, founder of TelePharm Technologies, while the oldest is 39-year-old Troy Miller, a local entrepreneur who is co-founder and president of Koala Pay.
A number of industries are always represented by each class of honorees. This year, for the first time, technology is the most widely represented. And nearly every honoree in the technology field is an entrepreneur who has started a business.
"I'm proud of starting the business at an early age," said 32-year-old Ben Anderson, founder of Bandwidth Pool. "My parents and the folks at JPEC (University of Iowa John Pappajohn Entrepreneurial Center) really encouraged me. At the time, some people – 'grown ups' – didn't have a lot of faith in the idea or the business. But I remained resilient."
Other industries heavily represented by this year's honorees include health care, finance, education and nonprofits.
Many of the 2013 honorees played a big part in the recovery efforts following the 2008 flood.
"When I started on the library board, it was a sleepy group. Then the flood hit and we had to step it up," said Natalie Ditmars, an attorney at Bradley & Riley who has served as secretary and former president of the Cedar Rapids Library Foundation's board of directors and 2013 Forty Under 40 honoree.
Like each class, the honorees' work and contributions are inspiring and will hopefully spark a new generation of young people to achieve much and devote their time and energy to area organizations.
Help us congratulate our 2013 class:
KCRG-TV9
Infrastructure Technology Solutions
Bandwidth Pool
Iowa City Area Development Group
Matthew 25
Cedar Rapids Metro Economic Alliance
Dardis, Inc.
Bradley & Riley, PC
CarePro Health Services
Cafe Dodici
U.S. Bank Home Mortgage
Lattice Communications
The Early Bird
Pearson
KJWW Engineering Consultants
BankIowa
SouthGate Companies
Foundation 2
University of Iowa Health Care
Marion Chamber of Commerce
Iowa Youth Writing Project
Strategic Financial Solutions
ImOn Communications
Ryan Companies US, Inc.
Select Structural Engineering
TelePharm Technologies
Koala Pay
Van Meter Industrial
Cedar Rapids Public Library
Hawkeye Hotels
Brucemore
Bocce Ball Creative Studio
Great Western Bank
CoreTCS, LLC
Sagacity Hotel Group
University of Iowa Health Care
SouthGate
Brand Driven Digital
Principal Financial Group
North Bend Elementary School