PRESENTS
Connect for a Cause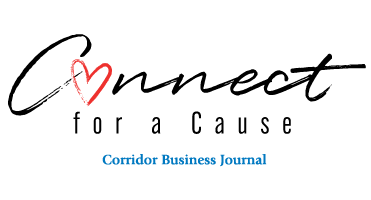 The Hotel at Kirkwood
7725 Kirkwood Blvd SW
Cedar Rapids, IA 52404
Register today for the #CBJsGivingTuesday– $5 of each ticket purchased will go to a local non-profit in attendance.

Philanthropy can help bridge the gap between a community's need for growth and the people who can and want to drive that growth, but need support to do so. This networking event is meant to connect our region's businesses who are committed to philanthropic work and giving with nonprofits who are making significant contributions to the communities where we live and work.

Unable to attend? Want to give more than $5 to a local cause? No problem. Donate your desired amount here. All donations will be split between non-profits in attendance at the event.

Nominations are CLOSED.


FAQ
What is the Giving Guide?
The CBJ publishes this annual magazine to elevate awareness of local nonprofits, whose services are relied on now more than ever. We hope you'll take special note of information regarding giving and volunteering opportunities.

When does it come out?
Giving Guide will be mailed to subscribers May 19 and unveiled at the May 23 Connect for a Cause connecting event.

Where can I buy a copy?
Contact Jean Suckow (jean@corridorbusiness.com) to purchase a copy.

When and where is the Connect for a Cause?
May 16, 2023 @ 5:00 pm - 7:00 pm
The Hotel at Kirkwood
7725 Kirkwood Blvd SW
Cedar Rapids, IA 52404
What does the Connect for a Cause include?
Ability to engage with attendees during networking.
Drink and hors d'oeuvres.
A copy of the 2023 Corridor Leaders 250.

How much are the tickets?
$40 for an individual ticket.
*Ticket sales close exactly one week prior to the event. No exceptions.
*All dietary restrictions must be submitted a week prior to the event. If you have any questions, please email keeley@corridorbusiness.com.

What is your refund & cancellation policy?
In cases of inclement weather, the Corridor Business Journal will assess the situation and will alert all attendees if the event will be postponed or canceled. Refunds will not be offered if the postponed event is held. In the unlikely event of a cancellation, they may be exchanged for a different event of the same value, free of charge, subject to availability.
I've purchased a ticket(s), do I receive a physical one?
No. There are no physical tickets. Attendees are asked to check-in at the registration table prior to the event.
Stay up-to-date with the CBJ events
Sign up for our newsletter now to receive special invites to CBJ events like the Women of Influence, the Healthcare Summit, Economic Forecast Luncheon and more.