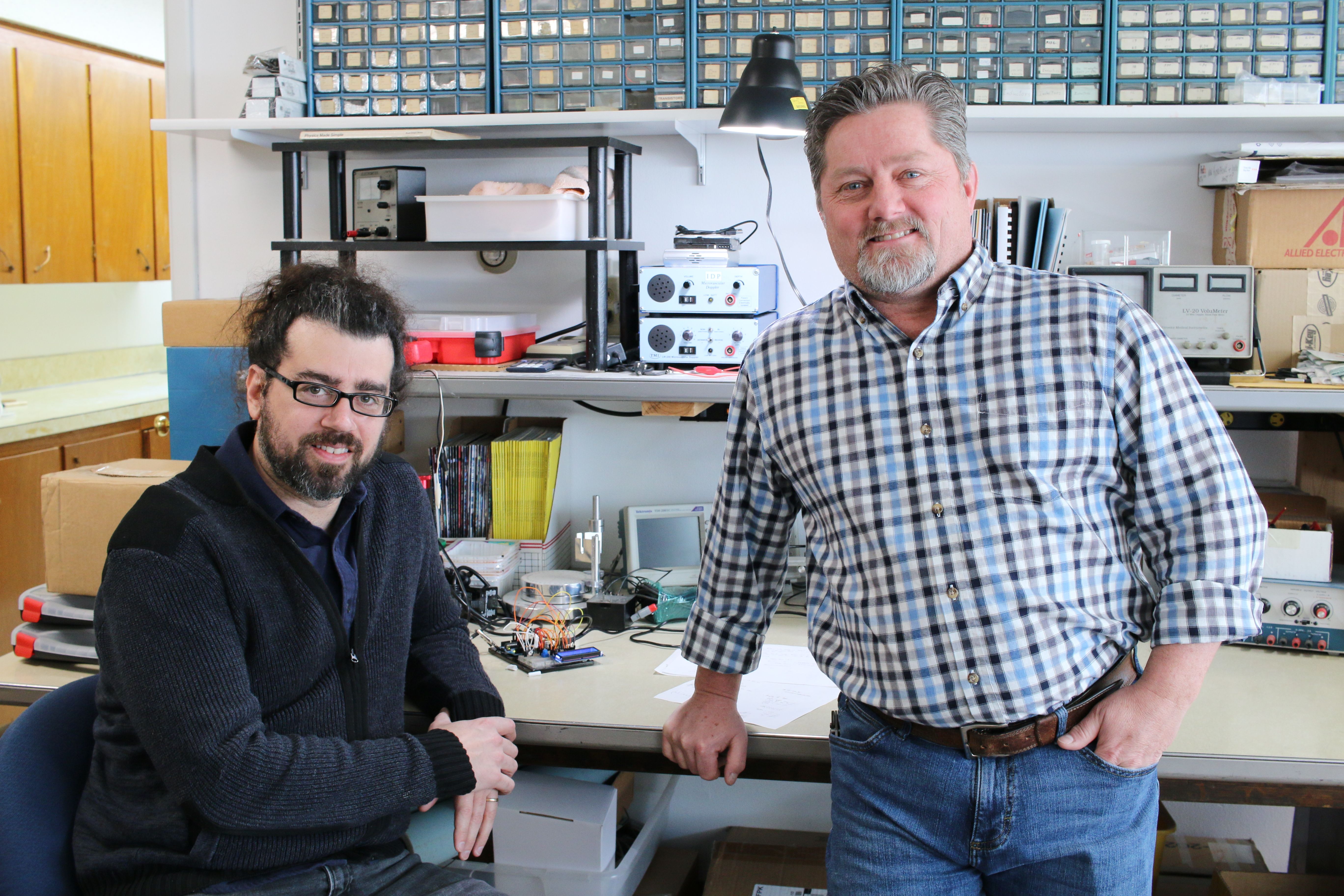 FarrPro co-founders Amos Petersen (left) and Chris Hanson stand next to a workbench in the company's Iowa City R&D lab. PHOTO ADAM MOORE
By Adam Moore
adam@corridorbusiness.com

In some ways, agtech startup FarrPro is like the piglets living in its lead product, the Haven: It's warmed up and ready to grow.
The Iowa City-based company is hot off its win of a major Canadian prize for pork industry innovation, has hired a veteran president, and is ready to embark on a new fundraising round that it hopes will help scale its operations in the year ahead.
"We want to build the foundations of a billion-dollar business," said co-founder and CEO Amos Petersen.
Considering the value the Haven promises to unlock for pork producers, that may not be as lofty a goal as it sounds.
The Haven is deceptively simple, comprised of an elongated parabolic reflector and a heat element that emits long-wave infrared energy. Designed to sit astride two farrowing crates, the product creates a semi-enclosed microclimate that provides focused heat for piglets, which prefer an ambient air temperature of 95 degrees, while allowing the sow to relax in the cooler ambient air, keeping her stress levels down and promoting healthy milk production. It also keeps the piglets away from the sow, lowering the risk of accidental crush deaths.
It isn't just the animals that benefit, either. Thanks to the focused heat source, pork producers can keep the temperatures lower in their farrowing facilities, reducing energy consumption. An early peer-reviewed study with Iowa State University found that FarrPro's Haven helped reduce pre-wean mortality by 20%, and energy use by 59%, and more studies are now underway.
"One of our customers told us that when you walk into a heat lamp room, you can feel the heat being cast off by the lamps," said Chris Hanson, co-founder and director of business development, adding that lopsided heat dynamic can lead to a battle between a facility's heating and cooling systems. "When you walk into a Haven room, the air is much different. She said the heat feels even – there's much better air quality."
That has attracted the attention of agtech investors from around the state, and major pork producers in the United States and Canada. FarrPro announced the completion of a $825,000 seed round in July 2018, with central Iowa insurer Grinnell Mutual leading that raise. Farmers Mutual Hail Insurance Company of Iowa, the Iowa AgriTech Investment Fund and a small group of Iowa angel investors also participated in the round. A bridge round in the fall of 2019 raised another $160,000.
In 2019, the company received the National Hog Farmer Producer's Choice Award, an annual honor decided by National Hog Farmer readers. Most recently, FarrPro accepted the prestigious Dr. F.X. Aherne Prize for Innovative Pork Production, presented in January at the 2020 Banff Pork Seminar in Canada. The prize is given to individuals who have developed either original solutions to pork production challenges or creative uses of known technology.
Mr. Petersen described it as an "incredible honor" that isn't normally given to non-Canadian innovators, adding that the judges "really saw value in what we're trying to do."
The award has earned FarrPro several inquiries from Canadian pork producers and distributors, Mr. Hanson said. He noted that Canada's pork industry operates in a "premium" sector of the market, with producers selling their hogs either to specific grocery chains or exporting to Japan, where Canadian pork is held in high regard.
While "there are certain boxes we have to check" before capitalizing on its Canadian exposure, Mr. Hanson said the company is already in trials with two of the United States' top 15 pork producers, and hopes to launch another major trial in March. If that goes well, the farrowing gates could be thrown wide open, with FarrPro hoping to have 400 units in place by next year.
"I think most producers generally assume that a large producer has invested a lot of time and resources getting to their efficiency," Mr. Hanson explained. "If it makes sense for them, then it starts opening other people's eyes, saying, 'Hey, why aren't we doing that?'"
FarrPro is laying the financial foundation to make sure it can handle all of that growth. Its leaders are planning to kick off a major fundraising round in March, with the goal of raising $2 million by the end of the second quarter. Some of that would be in the form of converted notes from its earlier investors.
As it ramps up its fundraising, FarrPro also recently recruited former CEO and serial entrepreneur Sheldon Ohringer as president. Mr. Ohringer helped build West Des Moines-based Caleris into one of the nation's fastest-growing business process outsourcing providers before selling to Iowa Network Services in 2014. The University of Iowa alum was named CEO of the Year in 2010 by the Technology Association of Iowa, and has served on the boards of some of the state's most notable tech organizations, including the TAI and the Global Insurance Accelerator in Des Moines.
In the meantime, the company continues to iterate rapidly, with its R&D team hard at work on a number of improvements to the Haven during a recent visit to its Iowa City headquarters. They range from providing more information on each unit via upgraded LCD screens to experiments with unit-to-unit communication through power lines, eliminating the need for Wi-Fi, which can be problematic in the giant, metal-sided barns where most hogs are raised.
FarrPro is also exploring the use of ultraviolet B lighting elements, which have the potential to help piglets synthesize more Vitamin D, a crucial element in the development of healthy bodies. If that is successful, Mr. Petersen suggested, it could help FarrPro's customers raise pigs with more lean mass and fewer antibiotics.
"This is a target-rich environment for innovation," he said. "Farmers have been using the same technology for 140 years, and nobody has thought to question it just because of inertia."   CBJ