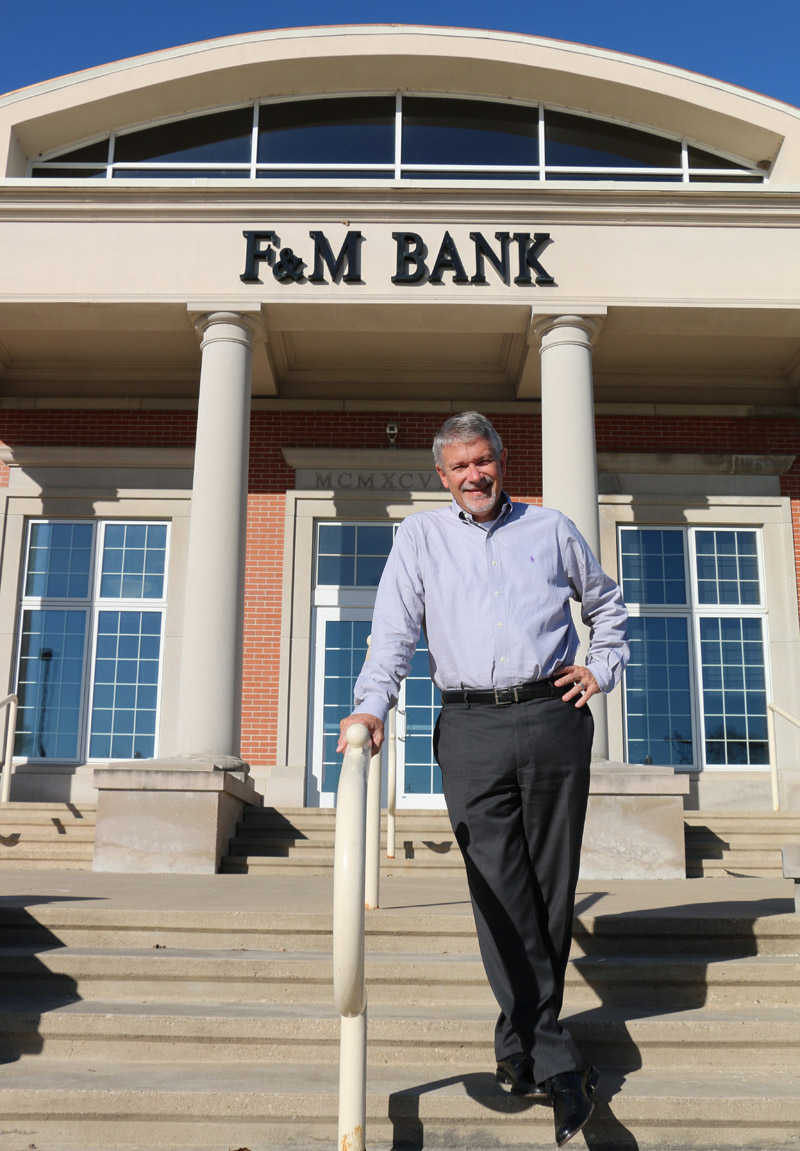 F&M's Tim German talks regulation, ag lending among community banks
By Dave DeWitte
dave@corridorbusiness.com
Iowa-based banks are adjusting to the changing regulatory and financial landscape, with one noticeable outcome being fewer of them, according to the president of the Community Bankers of Iowa (CBI).
"We're down to 281 banks from 348 in 2005," said Tim German, a 30-year banking veteran who also leads Manchester-based F&M Bank as president. "It's not because of failed banks. … It's just consolidation. There are increased costs that have come along with compliance and IT security, and you need a certain amount of mass to afford all of that."
As the leader of a bank with $560 million in assets, Mr. German has seen firsthand the increase in regulatory oversight following the financial crisis of 2008 and 2009.
"You've got a home loan that used to be 40 pages, and now it's 140-150 pages," Mr. German said. "It's part of the game, but some of [the regulations] maybe don't make much sense."
Community banks didn't make many of the subprime loans at the root of the financial crisis, Mr. German said, and would prefer to see regulatory standards reshaped to accommodate the difference between large and small banks when it comes to things like resources and risks. It has become the top legislative priority for the CBI.
"We're not saying these rules shouldn't be there, but who should they apply to? A $500 billion bank, or a $50 million bank out here in Iowa?" Mr. German said.
Mr. German recalled a recent instance when the difference between national and community banks came into sharp focus. Richard Cordray, director of the federal Consumer Financial Protection Bureau, was in a room with 35 CBI members and asked how many had foreclosed on a home.
"A lot of the people in the room had never foreclosed on a house," Mr. German said, "and these were not young people."
Mr. Cordray seemed to have difficulty believing their statements, but Mr. German, who grew up on a farm near State Center, knew they were true.
"They said, 'We're from a small town and we've got to work with the clients we have, because we're not getting more of them. We don't want to own this property, and so we work things out with them,'" he recalled.
In addition to reining in regulation, the CBI is pushing back against what it considers unfair competition from government-sponsored entities such as the Farm Credit System, which it believes has strayed from its mission of serving the farm community. He cites the system's $725 million role in a multi-billion dollar loan to help Verizon buy out its Verizon Wireless partner. Credit unions remain another perennial concern for the organization because of their federal income tax exemption.
Despite higher levels of regulation and a soft ag economy, Mr. German said the bulk of CBI's members are performing well financially. One clear sign he sees is improvement in CAMELS, the aggregate composite ratings of Iowa banks. They are the ratings attached to depository institutions by federal examining agencies, shared confidentially with bank management but not the public. They evaluate assets, management capability, earnings, liquidity and sensitivity.
The percentage of Iowa-chartered banks in the top ratings category fell from 41 percent at the end of 2007 to 29.9 percent at the end of 2010. Since then, the percentage of Iowa banks with the top CAMELS rating has risen to 50 percent as of March 2016. More than 98 percent of the state-chartered institutions fall within the top two classifications in the five-class system.
While times are good for Iowa's community banks overall, there are a few dark clouds on the horizon, including the ag economy and prospects for higher interest rates.
F&M Bank has about 25 percent of its assets in ag lending, and most of the remainder in small business lending. The period of weak grain prices has not caused a buildup of nonperforming loans or excessive borrowing, Mr. German said.
"Will we have to do some restructuring? Yes, we will – not for everybody but for some," Mr. German said. "Fortunately, we had seven or eight good years of good ag, and a lot of farmers have built up some equity, and now people have some equity in things."
The recovery of grain prices is still widely expected to take a year or two, Mr. German said, but until that occurs, reductions in input prices for things like fuel, fertilizer and chemicals are expected to reduce farmers planting-time borrowing needs.
Although regulation and IT security costs factor heavily in Iowa's declining community bank numbers, they aren't the only reasons, Mr. German said. In the case of family-owned banks, there sometimes isn't a successor interested in taking on leadership. Staffing banks adequately can also be a challenge in smaller rural communities, Mr. German said.
F & M Bank has more than doubled its assets during the past decade, and now has 11 banking locations and 124 staff in Iowa and Minnesota.
Although F&M Bank plans to continue its conservative style of growth, "we still want to be that bank where the people know you by your name," Mr. German said. "We want to keep that community bank feel to it."