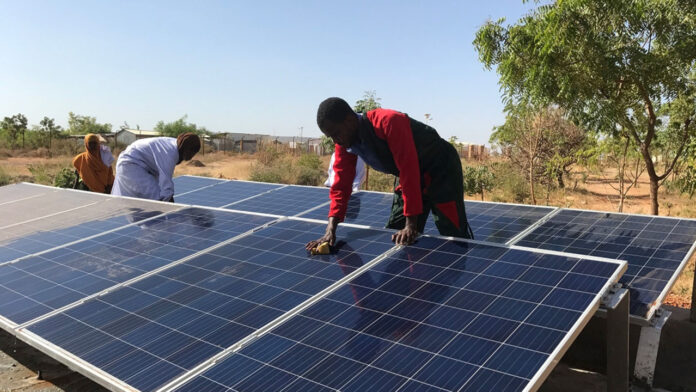 As part of its sustainability outreach programming, Collins Aerospace is launching a Clean Energy initiative with Engineers Without Borders USA (EWB-USA), a nonprofit organization whose members volunteer their time and skills to support international development programs focused on sustainable engineering solutions.
Through this first-of-its-kind partnership, Collins and EWB-USA will help improve access to clean energy solutions in underserved communities around the globe using technical and engineering support from Collins.
"Collins Aerospace is committed to creating green solutions for the aerospace industry, reducing the environmental impact of our operations and supporting sustainability initiatives through our philanthropic donations," said LeAnn Ridgeway, vice president of sustainability for Collins Aerospace. "As EWB-USA's first Clean Energy partner, we will continue to build on the longstanding relationship between our two organizations while bolstering our combined efforts to protect the environment in the communities we serve."
With 25 clean energy projects already underway around the world, EWB-USA is leveraging the expertise of industry volunteer engineers to help local communities sustainably meet their basic needs. For example, in Ethiopia, EWB-USA volunteers designed and constructed solar micro-grids to power medical clinics, businesses and shops at Somali refugee camps. The new initiative sponsored by Collins will allow EWB-USA to grow and expand projects like these to additional communities.
"While Collins and EWB-USA have worked together for many years, this initiative represents a new focus for both of us," said Mauro Atalla, vice president of engineering for Collins Aerospace. "Rather than support individual projects as we have in the past, we've created a portfolio of projects centered specifically on clean energy solutions and dedicated all our resources to it. As a result, Collins and EWB-USA will now have a bigger impact in this critical area by leveraging the technical expertise and passion for volunteering of our engineers."
The new program builds on existing support provided to EWB-USA by Collins' parent company Raytheon Technologies. For more than a decade, Raytheon Technologies and EWB-USA have worked together to solve global engineering challenges facing underserved communities in the U.S. and abroad.
"Engineers Without Borders USA is incredibly grateful for Collins' innovative partnership in our clean energy portfolio," said Scott Myers, director of development for EWB-USA. "We're excited to join forces with Collins to continue aligning our impact on the United Nations' Sustainable Development Goal (SDG) 7, which addresses the need to ensure access to affordable, reliable, sustainable and modern energy for all."
To learn more about Collins' sustainability initiatives, visit CollinsAerospace.com/Sustainability.