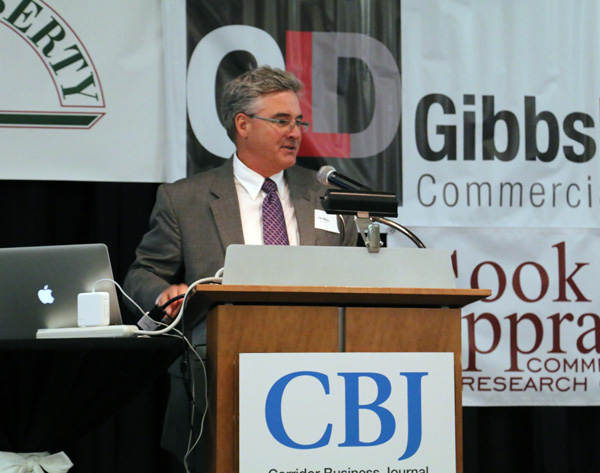 Van Miller, a broker associate with GLD Commercial talks about developments in Cedar Rapids during the CBJ's Commercial Real Estate Luncheon, held Sept. 13.
By Adam Moore
adam@corridorbusiness.com
Residential and commercial redevelopment in Cedar Rapids is proceeding a rapid clip, and is being driven by a surging retail sector, according to a veteran Corridor broker.
Van Miller, a broker associate with Gibbs Lamb Drown, told attendees at the CBJ's Commercial Real Estate Luncheon that there is currently 1 million square feet of space under development or redevelopment in the city, representing at least $140 million in investment.
"And those numbers only reflect a handful of 'high-priority' projects," Mr. Miller added, suggesting that the actual totals could be much higher.
Retail interest has been strong, thanks to the region's relatively stable economy and returning consumer confidence. Mr. Miller said that officials with the city's Westdale redevelopment have recently signed letters of intent with two national retailers for spaces totaling 45,000 square feet. He added that a national tenant has signed a letter of intent for another 20,000 square feet, and he expects a signed lease for another 25,000 square feet "any day now."
A second multi-tenant building at the development is now underway along Edgewood Road, while First Federal Credit Union announced earlier this month that it has purchased an outlot along Williams Boulevard for a new branch office.
The net effect of the redevelopment, which is estimated to take until 2019, will push Westdale's assessed value from $4 million to around $40 million.
On the city's northeast side, a proposed project at Collins Road and Council Street could transform the former Junge automotive dealership into a new mixed-used project with a projected assessment of more than $10 million, compared to $1.5 million today. Mr. Miller noted that the project is still in the "infant stage," but that early conversations with potential tenants have been "very encouraging."
Nearby, the Water Rock Place development on Blairs Ferry Road will soon become home to Rock Top Bar & Grill and Natural Grocers, while Northtowne Market – a 30-acre development located just across the street on the former Nash-Finch site – has secured a host of early tenants, including Gander Mountain and Burger King. Those projects are estimated to boost the land's assessed value from the low-seven digits to nearly $30 million.
Mr. Miller also remarked on the growing "arms race" in the convenience store segment, referencing the number of new stores going up in the area. Kum & Go has built six new stores in the market and Casey's has built two, while Kwik Star has built two and is doing due diligence on two more. He also said that two other convenience store operators are looking for property in town.
"I don't know if Casey's and Kum & Go view it this way, but [Kwik Star] considers themselves neighborhood grocery stores that also sell gas," he said.
Mr. Miller noted that "well-designed and located" development projects remain in demand, and that mid-box and large-box retailers are reasonably healthy, Mr. Miller noted. Developers have also benefitted from what Mr. Miller described as "the herd mentality," in which smaller, mid-box users seemingly flock to a new development once a larger anchor store leases space.
"If you can get one and gain traction, you're likely to gain a number of other operators that like to follow," he said.