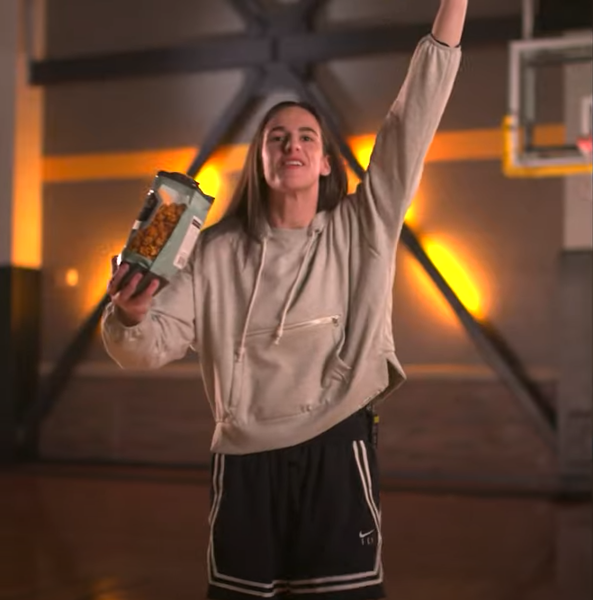 A new ad featuring University of Iowa women's basketball star Caitlin Clark, produced by Goldman Sachs 10,000 Small Business Voices, supports reauthorizing the U.S. Small Business Administration (SBA).
It is believed to be the first name, image and likeness (NIL) advertising to advocate for federal policy, according to a press release.
In the tv and digital advertisement, Ms. Clark is seen promoting Cedar Rapids-based Almost Famous Popcorn. The video says the SBA should be modernized, something that hasn't happened since 2000, or in Ms. Clark's lifetime.
"As an Iowa small business owner, I am thrilled to have Caitlin Clark, who is a small business leader herself, lend her powerful voice to the important issue of modernizing the SBA," said Sydney Rieckhoff, co-owner of Almost Famous Popcorn, an alumna of the Goldman Sachs 10,000 Small Businesses Program in a statement. "Small businesses need an SBA that can move at the speed of small business, tackling today's business challenges – from accessing capital and affordable childcare, to competing with big companies on employee benefits."
In July, Ms. Rieckhoff attended a Small Businesses Summit in Washington D.C. to fight for this issue, in addition to talking with local elected officials.
Goldman Sachs released a report this week in partnership with the Bipartisan Policy Center offering recommendations to modernize the SBA. Policy recommendations include:
Closing small business financing gaps across race, gender, age and geography to help small businesses reach their full economic potential.
Improving small business participation in the federal procurement marketplace.
Supporting small business development as effectively as possible, including improved customer service, marketing and technical assistance.
Ms. Clark sat down with the CBJ in October to discuss NIL and her personal brand.
"Brand-wise, I want to be somebody that did things the right way," she said in the interview. "I don't want to be somebody that was just taking any deal I could because I wanted a check or something like that. I think that's what I've lived by. I've only aligned with companies that I truly am passionate about and that have those same values that I do."