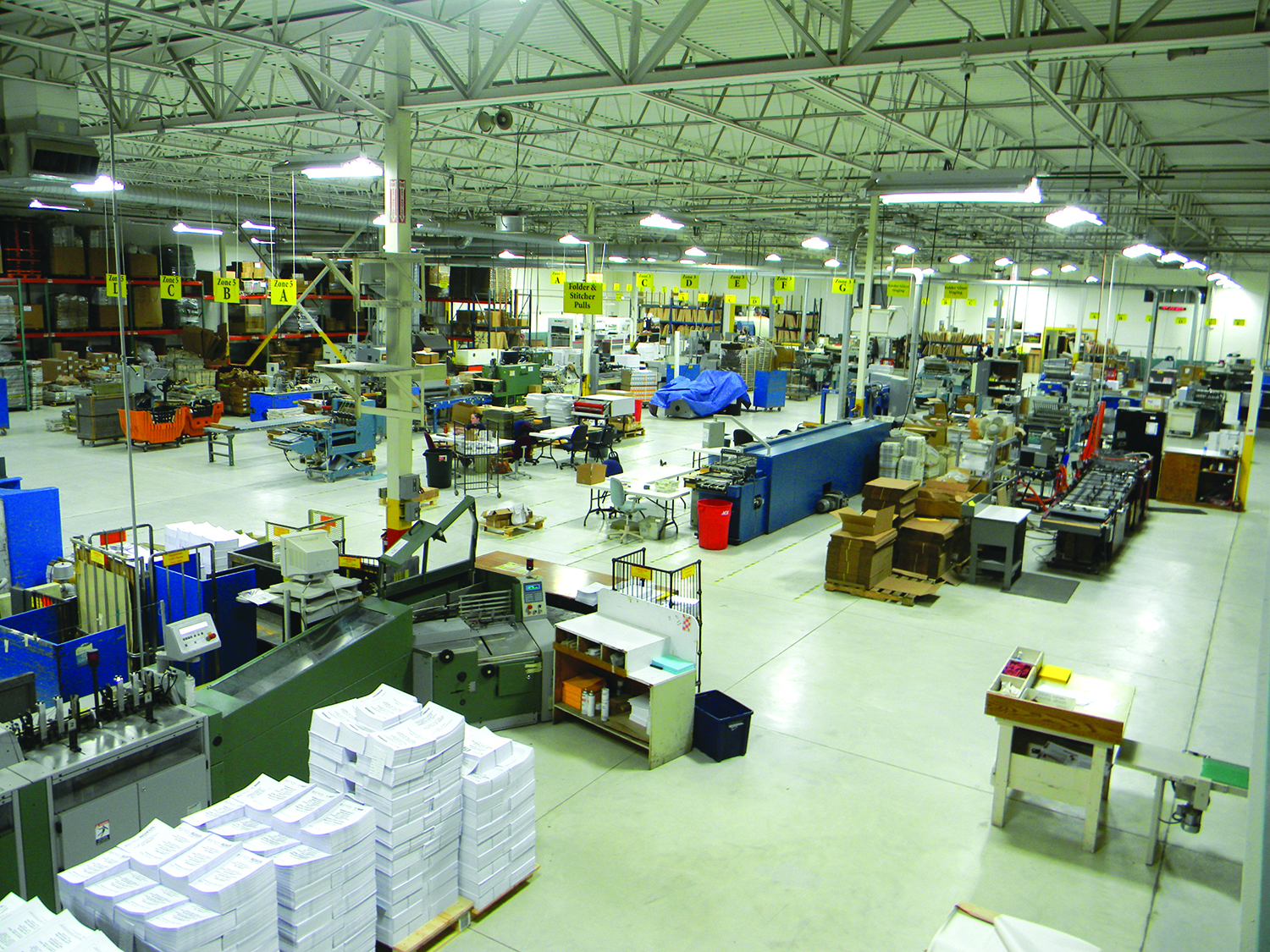 The interior of Cedar Graphics' plant in Hiawatha.  PHOTO/Cedar Graphics
It's not every company that can claim every household in the United States has something it produces, but Cedar Graphics is confident it can back up that claim.
The Hiawatha-based printing company offers a variety of advanced services and printing technologies, from wide-format digital printers to ultraviolet offset presses, and focuses on being "really particular" about color and quality, according to Marketing Manager Justin McDonald.
Their services have attracted a mix of major and mid-sized clients from around the world. Cedar Graphics now handles large-run orders ranging from DVD cases for new releases to pharmaceutical packaging.
"We do a huge amount of stuff, so chances are you have something [produced by Cedar Graphics] in your home, whether it's a garden hose box to a direct mail piece to a calendar," Mr. McDonald said.
Part of the company's sales pitch is its ability to produce some incredible special effects on a variety of unexpected surfaces. For example, Cedar is the only printer in the state, and one among a handful in the country, that uses UV offset presses, Mr. McDonald said. The process uses UV light to instantly cure inks, which creates a more vibrant image with better durability on paper, plastics and foils. It can also add unique coatings or textures to a surface, creating a 3-D effect that instantly catches customers' eyes.
"If you're trying to do something cool, you're going to do it with us," Mr. McDonald said.
Cedar Graphics has also built a sizable niche in the digital space, such as its capability in creating complex variable data campaigns, which can allow businesses and marketers to personalize thousands of direct mail pieces in one print run. A given project might combine 15-20 images and lots of different text to create 30,000 customized postcards, each one determined by the recipient, increasing the relevance and impact of a marketing piece.
Other services include the ability to create web-to-print storefronts for clients, allowing employees or customers to order branded banners, letterhead and other items online and on demand.
Those services have long been available to large companies, but Cedar Graphics also has made sizable investments in the last two years to expand its digital operations, making those high-end effects and services available to smaller organizations, and in smaller runs. It recently added a third HP Indigo press – considered the latest in digital printing technology – along with a wide-format flatbed printer and cutter capable of printing on or cutting into anything up to three inches thick.
Mr. McDonald said that Cedar Graphics continues to investigate and add equipment, largely at the request of its customers – an arrangement that forges a unique relationship between the company and those it serves.
"The only reason that we're successful is because our clients have become successful," he noted. "It really is truly a servant mentality. As our clients have succeeded over the years, we've grown with them."
– Adam Moore
TIMES ON LIST:
6 Times Best Printer