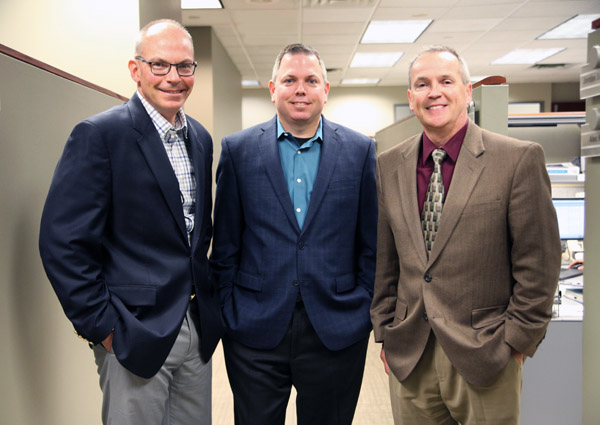 Steve Schoenauer, Eastern Iowa market managing partner, Brian Becker, technology management consulting partner, and Mike Thomas, wealth management director, are shown in RSM's office in the Towne Center in Cedar Rapids. PHOTO / ERIKA BRIGHI
By Chase Castle
chase@corridorbusiness.com
The year 2016 ushered in a new name and brings new accolades for RSM, the global tax and advisory firm with offices in Cedar Rapids and Iowa City.
Last fall, the firm announced the simplified name change to RSM, which followed its adoption of the name McGladrey LLP in 2012. The following year, the company established its current U.S. headquarters in Chicago.
Corridor Business Journal readers also named the firm as the best source for business consulting, IT support and investment services in the publication's recent Best of the Corridor voting, held in mid-June.
READ: Learn more about 2016's other Best of the Corridor winners.
RSM launched its wealth management services in the late 1990s, and the service expanded into Cedar Rapids beginning around 2002, with separate advisors based in the firm's Dubuque office.
While it's difficult to define a typical client within the wealth management division, Wealth Advisor Kimberly Hillyard said every customer's situation is unique and usually complex, with goals ranging from decreasing tax liability and increasing capital to guiding an acquisition or monetizing a business.
Ms. Hillyard said one advantage of working with the firm is its breadth. As part of a multinational accounting network, RSM employs staff who specialize not only in auditing and accounting, but also risk management, corporate restructuring support and other forms of business support and consulting services.
"What's unique about us being an accounting firm is we have very tax-centric views when we're visiting with clients," Ms. Hillyard said. "One of the greatest parts of working here is we've got the ability to pull resources from across the nation when we don't have it here locally."
She added that, particularly for businesses with clients who are part of an estate planning process or are undergoing a transfer of ownership, tax advisory work continues to play a large role at the firm.
"I'd say with a large percentage of our clients, [we have] at least one meeting per year where we have a CPA go through a year-end planning process, rather than waiting until February or March and there's no planning that can be done."
Also among the firm's other offerings are information technology services, which for Corridor clients, are also based out of Dubuque. The firm's IT division typically works with business clients with anywhere from 100-5,000 employees, according to Pat Vance, a technology consulting principal with RSM.
"We don't just provide management consulting advice," Mr. Vance said. "We actually have all the engineering and programming and geeks and business analytics to actually deliver technology solutions."
Included in those solutions are electronic resource management (ERM), which tracks and organizes company resources; customer relationship management (CRM), which analyzes customer interactions; and SharePoint, a web application and collaborative tool from Microsoft.
Since the start of the millennium, however, a focal point of the company's IT services relate to cloud storage, which typically involves placing large amounts of content on secure, online servers that can be accessed remotely. Cloud-based systems can more readily accommodate employees who travel or work from home than offline systems, and serve third-parties or clients with time-sensitive demands. In addition to convenience, many businesses are drawn to cloud storage because it's typically easily scalable through servers are usually maintained by a third-party.
To further enhance the draw, Mr. Vance noted that most arrangements also allow cloud users to downsize their storage space, which can be appealing to seasonal businesses with dramatic swings in demand.
"The cloud-based provider provides that scalability to you," Mr. Vance said. "And it's very flexible."
Although Mr. Vance said most cloud storage servers are more secure than offline counterparts, IT managers still must strike a balance between accessibility and concerns about privacy and proprietary data.
"They need advice on what business strategy they should pursue," Mr. Vance said. "And every organization is different. There's not a one-size-fits-all situation as it relates to the cloud."
TIMES ON LIST:
1 Time Best Investment Services Firm
1 Time Best IT Support Company
1 Time Best Business Consulting Firm (new category)