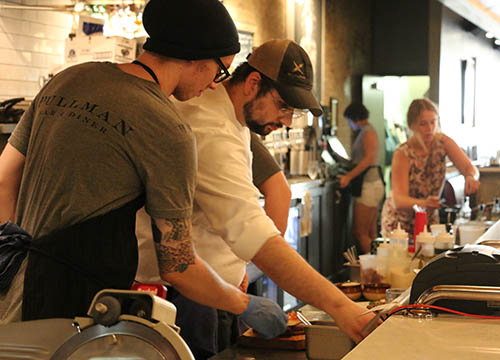 Upscale twists on traditional dining and an homage to one of America's most famous train car companies powered Pullman Bar & Diner to the honor of Best New Restaurant in this year's Best of the Corridor competition.
The downtown Iowa City diner opened just after New Year's, and co-owner Nate Kaeding said business hasn't slowed since.
"It's exceeded everyone's expectations," said Mr. Kaeding, who also owns Short's Burger and Shine in Iowa City, and is one of six owners at Pullman. "Our heads always are kind of spinning starting up a restaurant. There are so many things happening and going on."
With a half-dozen investors behind the restaurant, he compared the hardship of choosing a name to naming a newborn. Input came from fellow co-owners Faye and Matt Swift, Ben Smart and Doug Goettsch of Big Grove Brewery, and Cory Kent, who also manages Red's Alehouse.
As part of their desire to honor traditional diners and Americana, the group eventually agreed on a name that evoked the Chicago-based Pullman Company and other train manufacturers that once produced luxury sleeping and dining cars, some of which were later converted to freestanding diners.
"We felt that it spoke a little bit to the blue-collar element that everyone thinks of with a diner," Mr. Kaeding said.
The train motif extends to the diner's architecture, with a curved, chrome roof enclosing much of the elongated bar. Adding to the traditional American experience are Marx brothers photography and an eclectic music mix. Mr. Kaeding said the diner's food and service, however, have driven its success.
"The biggest compliment that we can get is from a customer is that they had fun [and] had a great experience, and that includes the service," he said. "So that's been the most rewarding thing for us."
With a culinary career that started at Takanami in Iowa City, head chef Ben Smart has worked at upscale restaurants in Kansas City and Seattle. There, he met chef Sepehr Sadrzadeh, who later followed him back to Iowa City. Mr. Sadrzadeh now stands in for Mr. Smart while he's at Big Grove Brewery.
Among the lessons learned from his travels were different kitchen styles, Mr. Smart said – some being friendly and inviting, while others were more rigid, with an unspoken divide between the kitchen and serving staffs. That line is intentionally blurred at Pullman, where the food is prepared directly behind the counter. The open arrangement allows guests to watch the chefs fire fresh meats and prep side dishes, all of which are quickly whisked away by servers.
"We're really proud of what we do and proud of what we make," Mr. Smart said, noting that the open space lets customers see other tables' dishes and ask questions about what's being prepared. "So that kind of starts the conversation. It also helps get repeat business."
Among the head chef's favorite dishes are the croque-madame, a grilled ham and cheese sandwich served with mornay sauce, and the diner's trademark burger that pairs two, separately grilled patties.
Perhaps the most uncommon item on the diner's menu, however, is roasted bone marrow, which is served with a bacon jam on a decadent meat spread.
"It sounds bizarre to some people, but it is one of the most tasty things I've ever had," Mr. Smart said. "It's not an every-day kind of thing, but you've got to try the bone marrow."
– Chase Castle