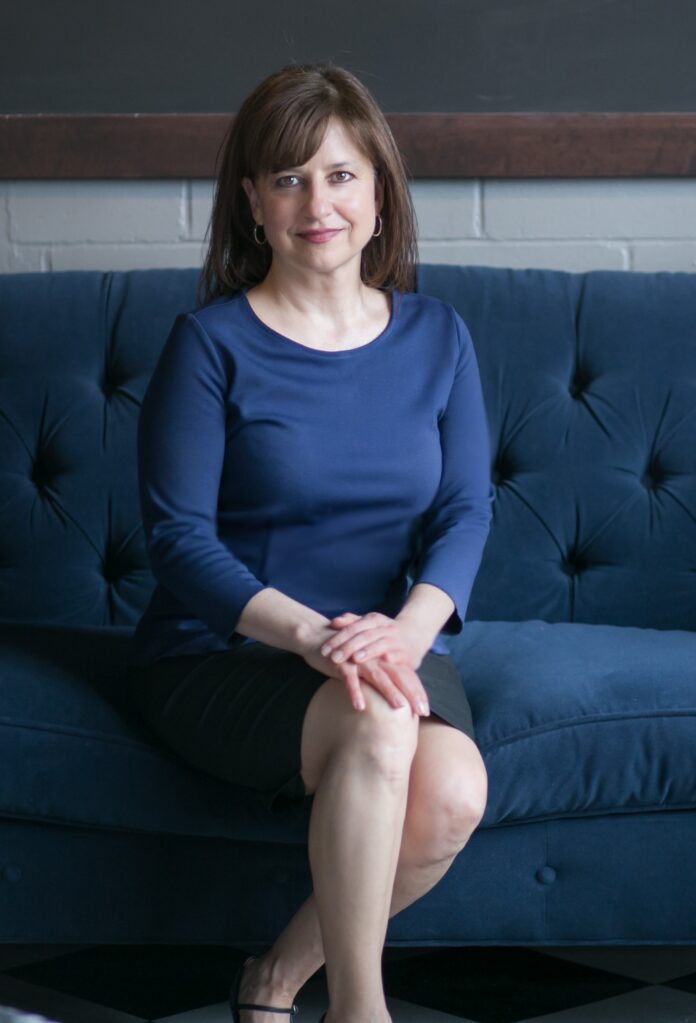 Entrepreneurship isn't for the faint of heart — especially during a global pandemic. But hotelier Angela Harrington relied on her tenacity and experience from a previous failure to make it through the tumult.
Ms. Harrington, the CBJ's 2021 Thomas L. Cardella Entrepreneur of the Year, used lessons learned from the 2008 financial crisis that claimed her once-thriving restaurant operation to keep afloat her latest projects, The Highlander in Iowa City and Hotel Grinnell in Grinnell.
"I'm sure grateful for that experience," she said of losing her restaurants. "I never would have weathered this horrible storm of the pandemic without it."
Among the most important lessons to keep in mind during a disaster are not to run out of cash and to act quickly.
"It doesn't matter who's asking you for cash, you must hoard cash to get through the worst of times," she said. "You need to act very decisively and immediately in making decisions; you just can't hesitate. You can't wait to see if it's going to get better the next day or a month from now. No, you need to cut expenses, right now, no matter how hard that is, so that you can live to see another day."
For entrepreneurs like her who really care for their employees, decisions to cut staff are especially tough, but necessary to ensure that job is available again someday.
Like most business owners, Ms. Harrington believed the COVID-19 pandemic would not last long once it began to spread in the United States in March 2020.
"But it just kept dragging on," she lamented. "This has been a true test of every entrepreneur in the world. The duration of it was hard mentally, physically, financially. Most entrepreneurs can get through 90 days, but not 14 months."
Plans were already underway to open the former Highlander Hotel and Supper Club in Iowa City last summer, despite the pandemic putting a halt on traveling and events. After a $5 million, six-month renovation, the 65,000 square-foot space opened as The Bohemian last July with a new look but the same '60s and '70s cool vibe. Its name was soon changed back to the more familiar Highlander.
As expected, guests didn't come right away due to COIVD-19 fears and restrictions. But the overhead remained.
"Last summer, I started thinking of strategies whereby I could not only keep the lights on every day but try to prevent the pandemic from crippling my business for the next 10 years," she said. "That revenue is not coming back, hotel nights are perishable and most of the expenses don't go away when your business is so asset-based. Utilities and insurance, taxes and technology just to stay open both digitally and physically are gigantic with a hotel. The relief money, although welcome, was based on a payroll, which is why hotels are still really struggling. Overhead is much, much more than payroll in a hotel."
The Highlander stayed alive throughout the fall and winter thanks to local community members who took mini vacations here and there.
But since the beginning of March in Iowa City and May in Grinnell, business has been booming, presenting a whole new set of challenges.
"It's like I am opening two hotels from scratch, but someone lost their mind and told you to open them to lots of business but no reserves or no operating money," she explained. "When you start a company, you allow for a lot of money for operating cash. The money has to come before the expense comes. Typically, you have a lot of reserves. But when the business comes back and you have no operating cash, that's hard."
Another monumental challenge facing many businesses nationwide, especially in the hospitality industry, is the labor shortage.
"The issue is quickly compounding on itself and not going away unless there are some big policy changes across the country. And even then, it will be years or decades before we have enough people to fill all of our jobs," Ms. Harrington said. "I can't grow if I can't find people to help me run things and take care of our guests.  I'm very lucky to have a wonderful team, but I need to double that team right now to accommodate what is shaping up to be a giant recovery. That problem is one I can't fix with just tenacity and being resourceful."
Ms. Harrington didn't set out to be an entrepreneur. After earning an undergraduate degree in behavioral science, she took a job as a teacher in an early childhood education program in Minneapolis.
At age 24, while working at Mystic Lake Casino Hotel in Minnesota, she was tasked with forming a family entertainment and child care center. That's when the developing bug first bit her.
Her first several projects were as an intrapreneur — working for companies and visionaries, either taking their headline and figuring out how to make it happen or proposing solutions to problems and making those solutions into strategic plans and businesses within another business.
After moving to Oskaloosa with her husband, the Denver native was struggling to adjust to small-town life, so she opened up a restaurant, Spaghetti's. It was such a hit, another followed in Des Moines and then in Colorado Springs, Colorado.
Things were humming along until the financial crisis in 2008 forced her to shut down all locations. Wanting to pause the "wild ride of entrepreneurship" to focus on her son, she accepted a full-time position as the president and CEO of Grinnell's Chamber of Commerce.
She was immediately challenged to create an event center in the college town. A 1921 junior high school fit the bill and after securing historic tax credits and funding from the Iowa Reinvestment Act, the old building was transformed into the boutique Hotel Grinnell.
After finding success with the renovation project, the Highlander's sale flyer came across her desk, and "the giant guest room windows caught my eye."
"The property was in high distress, like on its last leg when I toured it," she recalled. "I bet about 100 people looked at it and said, 'what a dump.' But there was an immediate vibe of the place that felt like it needed someone like me to bring her back. I looked at the pool and thought, 'man, they don't make them like this anymore' and I can do something with these bones.'
Similarly, she remembers walking in the old school building in Grinnell for the first time.
"It was not sexy, but I remember I was so excited that the janitor closet was perfect for a housekeeping closet,'' she said. 
Her latest project also involves the revitalization of an old property. With a $20 million budget, The Legacy Project will transform four buildings on the former Maytag campus in Newton into a 58-room hotel, 500-seat event center and 50 market-rate apartments.
There were some reservations about entering another small market, but Newton's location along Interstate 80 and proximity to Des Moines sealed the deal.
"If Newton wasn't minutes from Des Moines' eastern suburbs and included in the DSM metropolitan statistical area, I would not have done it as I just don't have room to do another in a stand-alone small town," she said. "We have some challenges to overcome, but if Newton is granted an Iowa Reinvestment Act award, Newton is going to get very cool in short order. I'm excited to be a part of that and play a role in transforming the city into a very hip place."
From the first foray into entrepreneurship with her restaurants to now becoming a successful hotelier, Ms. Harrington has learned to keep her ego in check and rely on others for advice.
"If you're going to be an entrepreneur, especially as a woman, you have to engage people smarter than you and ask for help," she said. "The main difference from my colossal failure to the success now is a lot of smart people in the background —just getting the advice of those who have gone before."
You also need "limitless energy" and the awareness to never get too comfortable.
"You can't give up easily," she said. "There's critical thinking skills and resourcefulness that is employed in entrepreneurship like no other profession. There's nothing like it in the good times and, let me tell you, there's nothing like it in the bad times, either."
In a typical year, the Highlander and Hotel Grinnell would have brought in about $3.4 million. However, during a pandemic when guests and events are scarce, that is money that is "never coming back."
But with an entrepreneurial spirit, Ms. Harrington presses forward.
"It's 14 months after it started, and I'm sitting in the kitchen of The Highlander talking to you and the lights are on," she said. "I've got a near full house, so we're going to make it. We're not out of the weeds, but we're going to make it."  CBJ