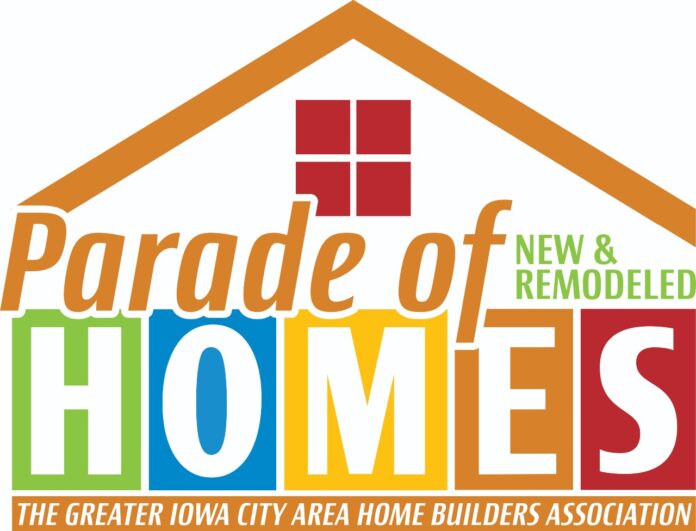 The 55th annual Iowa City Area HBA Parade of Homes, presented by Hills Bank and Urban Acres Real Estate and hosted by the Greater Iowa City Area Home Builders Association (HBA), is set for June 4-12 at scattered sites in four different cities and virtually.
The event, which spotlights 11 homes, is a chance to gather ideas and inspiration for an upcoming home project; learn about the latest techniques and trends in homebuilding and renovation; or simply observe quality craftsmanship.
Five new-construction homes are virtual only. The schedule for the remaining six new homes, located in Iowa City, Coralville, Hills and Kalona, is:
Saturday, June 4: 10 a.m. – 5 p.m.
Sunday, June 5: Noon – 5 p.m.
Tuesday, June 7: 5:30 – 8:30 p.m.
Thursday, June 9: 5:30 – 8:30 p.m.
Saturday, June 11: 10 a.m. – 5 p.m.
Sunday, June 12: Noon – 5 p.m.
The community gets excited about the parade, and we're thrilled to showcase work from our Iowa City Area HBA members," said Kevin McCreedy of McCreedy-Ruth Construction, who co-chairs the Iowa City Area HBA Parade of Homes Committee with Barbara Messer from Kitchens By Design. "The parade offers something for everyone, from couples starting out to empty nesters."
Tickets good for all days cost $10 and may be purchased at the Iowa City Area HBA (11 S. Gilbert, Iowa City) or at each parade home. A portion of sales go to various nonprofit organizations helping at event homes. Each buyer may complete one entry form for a chance to win $500 toward an Iowa City Area HBA business of their choice. Forms are available at the parade website, iowacityhomes.thegazette.com, or in the parade guidebook, available at various businesses, and can be submitted at any house on the tour.
The guidebook also offers a map of all homes, builder details, subcontractors used and articles about ways to increase your home's value, area workforce development initiatives and more. Banners on home listings indicate how and when they may be toured.
"Homes on the parade differ in how they may be viewed," said Mr. Messer. "Some are virtual-tour only, one just the first weekend and the rest available to physically visit throughout the parade. All homes will be available on the virtual tour after the parade concludes."
The 360-degree virtual tour is accessible through the website and the Iowa City Parade of Homes mobile app. With the app, visitors can more easily find where they're going and information they're seeking. It's available via Google Play, the Apple store or by scanning the QR code in the guidebook and on posters in the homes. Additional features include driving directions; filtering for square footage; and voting for the People's Choice Award. Visitors vote for their favorites in five categories: kitchen, bathroom, interior design, landscaping and overall. The overall winner will be featured on the 2023 Parade of Homes guidebook and poster.
Check the calendar of events on the app and HBA website to learn more about the Food Truck Parade. Enjoy lunch from Marco's Grilled Cheese at house #5, McCreedy-Ruth Construction, on June 5 or dinner at house #2, Elevation Homebuilders, on June 7 and dessert from Kona Ice after you tour house #3, Gary Frakes Construction on June 9. The first 50 visitors to house #6, Statler Construction, in Kalona will receive a coupon for a free appetizer at Kalona Brewing Company, and everyone will receive $1 off their first pint when they show their punched parade ticket during the entire event.
Numerous builders, subcontractors and material suppliers are featured in the homes, which have a wide range of prices. Besides touring the homes, ticket holders have the chance to speak with builders, designers, contractors, realtors and others involved in many aspects of the home-building industry.
Additional 2022 Iowa City Area HBA Parade of Homes sponsors are CBI Bank & Trust, MidAmerican Energy, RP Lumber, Sueppel's Siding, West Bank, McCreedy-Ruth Construction, Kitchens By Design, Bachmeier Carpet One Floor & Home, Iowa City Landscaping, Randy's Flooring, Locals Love Us – ICR and Vetter's Culligan Water. Volunteer coordinator is Rapids Reproductions, Inc. Promotional partners are The Gazette, CBS 2/FOX 28, Easton Design, KCRG, KZIA, iHeart Media, OnMedia and Townsquare Media (KHAK).
For more information, check out the 2022 Parade of Homes's website and Facebook page.